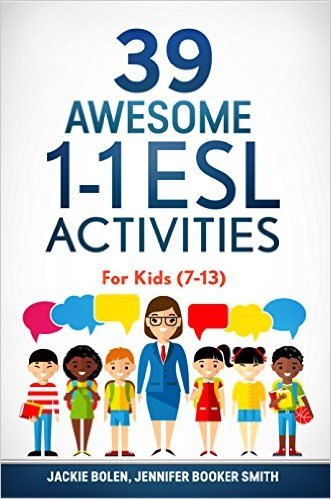 Do you do 1-1 English classes with kids and are having a hard time coming up with fun, engaging activities? Then you're certainly in the right place.
Check out this book filled with activities for private teaching with children to get you on the right track. Keep reading to find out more about it.
Private Classes With Kids = Difficult!
Teaching private classes to kids can be quite difficult and I personally find it far harder than doing the same thing with adults. Adults are usually able to focus reasonably well for an hour or two and their motivation is usually high since they're the ones paying for the lesson!
With kids however, it's a very different story. Learning English with a private tutor can sometimes be the last thing they want to be doing. Their attention spans are short, sometimes only 5-10 minutes. And, they are sometimes very unmotivated, especially if all their friends are watching TV or playing video games.
Fun, Engaging 1-1 ESL Activities
However, it is possible to have fun, engaging, productive 1-1 ESL lessons with kids. The book has 39 1-1 ESL activities that will help make your lesson planning easy and your classes awesome.
Sounds good to you? You can get the book over on Amazon in both print and digital formats. Keep a copy on your bookshelf in the office to use a reference guide. Or, take a copy with you on your phone or tablet for lesson planning in your favourite coffee shop.
It really is that easy!
39 Awesome 1-1 ESL Activities: For Kids (7-13)
Build up the Best Reputation with Quality Private Classes
By planning some great lessons that the students really enjoy, you'll be able to build up a really solid reputation in your neighbourhood and in a place like Korea, perhaps even have more work than you know what to do with. Trust  me. Moms talk to each other. They know who the good teachers are and the ones to avoid.
Private Teaching = Potentially Lucrative
Private teaching with kids really can be quite lucrative in countries where competition to get into the best schools is fierce. Parents are often willing to do whatever it takes to give their kid a slight advantage. This is where you come in.
Plan interesting lessons that are different each week. Your classes will be painless for everyone. Happy teacher who doesn't have to spend a ton of time planning. Happy students who have fun in your lessons. And finally, happy parents who see their child enjoying English and learning a lot.
Get 39 Awesome 1-1 ESL Activities Today
You can get 39 Awesome 1-1 ESL Activities: For Kids (7-13) over on Amazon. It really is possible to have better one-on-one classes tomorrow.
If you're tired of wasting time searching around on the Internet for interesting things to do in your lessons, it's time to pick up the book.
You can check out the book for yourself over on Amazon:
—>39 Awesome 1-1 ESL Activities<—
More Ideas for 1-1 English Teaching
Check out this short video for even more ideas about how to teach English privately:
Have your Say about 1-1 Teaching With Kids
Do you have any go-to private teaching activities for kids? Leave a comment below and share your top ideas with us.
Also be sure to give this article a share on Twitter, Facebook, or Pinterest. It'll help other hard-working teachers, like yourself find this useful teaching resource.