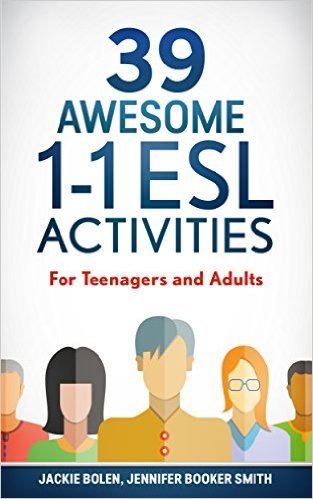 Are you looking for some fresh, new ideas for your private English teaching classes? Then you're most certainly in the right place. Keep on reading for all the details you need to know about these 39 activities for 1-1 English teaching.
Get Some Fun Ideas for your Lessons Today
39 Awesome 1-1 ESL Activities: For Teenagers and Adults is going to make your students happy and your lesson planning easy! If you teach private classes with only one or two students, it can be quite difficult to plan for because the ESL games and activities you'd use with bigger classes often won't work. You'll need to change how you plan your lessons, but this is where this book comes in.
Interesting and Engaging Activities
There are more than three dozen engaging, interesting and fun activities that your student will enjoy and you'll be able to mix things up in your classes, even month after month. Best of all, they'll really help your students improve their English skills because they're challenging, student-centred and push your students to get better.
Well Organized and Easy to Use
The activities in the book make it even easier for you to use them. They start off with a brief overview of each one so that you can tell at a glance whether or not it will work with your student. Then, there are detailed, step-by-step instructions that tell you everything you need to do before class to prepare, during class, and how to follow up after the activity is done.
Finally, don't forget to read the helpful teaching tips. You'll learn how to avoid the most common mistakes, as well as how to make the game or activity even more awesome. Yes, it really is that easy!
Happy Students = Money in your Pocket
If you want to keep your private teaching students, you need to keep things fun. Your students need to be improving their skills. You'll need to put a lot of effort into lesson planning. If you fail to do these things, your lessons will get cancelled. Nobody likes cancelled lessons, because this means less money in your pocket. This book will help you keep your students. They'll be happy because the lessons will be engaging and useful. And you won't have to struggle for hours when planning your lessons. You'll have almost 40 great activities right at your fingertips to use with your private students.
Here's what this book of 1-1 ESL activities is all about:
Teach Fun, Effective One-on-One Lessons!
Are you tired of spending too much time planning one-on-one lessons, only to end up wishing that the clock would move faster? How much time and energy could you save, with dozens of activities at your fingertips which could easily be used to teach the material of your choice?
25 Years of Classroom Experience
The authors, Jackie Bolen and Jennifer Booker Smith, have over 25 years combined experience teaching and creating materials for fun ESL classes. They have spent countless hours creating original materials and compiling useful and enjoyable activities for use with all kinds of classes. These ones are perfect for small classes of one or two students. They cover all 4-skills- speaking, listening, reading and writing. Your students will improve their English skills with these fun activities.
39 Awesome 1-1 ESL Activities gives you the inside scoop on one-on-one lessons. With its broad variety of activities across the four skills, you are sure to find exactly what you need. If you've thought about creating a profitable sideline with tutoring but were unsure of what to do in your lessons, this book has everything you need!
Get 1-1 ESL Activities for Adults Today
The good news is that the book is less than the price of a cup of coffee. Awesome 1-1 lessons, happy students and easier lesson planning. If you want some of this in your life, then you'll need to check out 39 Awesome 1-1 ESL Activities: For Teenagers and Adults for yourself on Amazon.
You can get the book in both digital and print versions. The (cheaper!) e-version can be read on any device. Just download the free Kindle reading app and have the book at your fingertips. Lesson planning on the go? Love it.
Check out the book for yourself on Amazon today.

Have your Say about these Activities for Private English Teaching
Do you have a go-to activity that you like to use for your English classes when you're teaching 1-1? Leave a comment below and let us know what you think.
Also be sure to give this article a share on Facebook, Pinterest, or Twitter. It'll help other busy teachers, like yourself find this useful resource.
Last update on 2020-04-15 / Affiliate links / Images from Amazon Product Advertising API