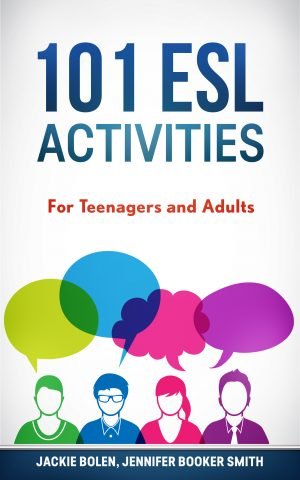 Why Do I Need this ESL Activity Book?
101 ESL Activities: For Teenagers and Adults is a new book out on Amazon that is guaranteed to make your lesson planning easy. Save time and do the things you actually like to do instead of wasting time with too much lesson planning! It will help you out if:
You're a first time teacher who doesn't have much experience in the classroom. All you need to do is open the book and choose a few of the activities to do in class. It's lesson planning made easy and you can stop wasting time wading around through all the junk on the Internet trying to find the thing you can actually use in your classroom.
You're an experienced teacher who is stuck in a rut. Even experienced ESL/EFL/TEFL teachers get tired and burnt out on the lesson planning. Use this book to find a few new ESL games or activities that you can use in your classroom to keep things fresh and interesting for you as well as the students.
You're overwhelmed. Maybe you have a really heavy courseload and are teaching a ton of different classes each week. This book is going to help you out. You'll find lots of fresh, interesting ideas for your classes with very little effort!
It's Lesson Planning Made Easy
In this book, there are 101 classroom tried and tested ESL activities for teenagers and adults that are guaranteed to get your students having fun while learning English. There's enough material in this book to last you an entire year!
It really is lesson planning made easy. So, so, so easy. 101 ESL Activities for Teenagers and Adults belongs on the shelf of every single English teacher.
Or, get the digital copy and have dozens of top-quality ESL games and activities at your fingertips wherever you go.
About the Authors: Jackie Bolen + Jennifer Booker Smith
The authors, Jackie Bolen and Jennifer Booker Smith have more than 20 years of experience in ESL/EFL classrooms. The activities in this book are well-organized and contain clear, concise descriptions so you can easily use them in your classroom today.
No more guesswork and trying to figure out what ABC or XYZ means. It's all laid out for you.
Lesson planning couldn't be easier.
Get the Book Today!
It's really easy to get your copy of 101 ESL Activities: For Teenagers and Adults on Amazon. The digital copy can be downloaded to any device by getting the free Kindle reading app. Click the link below to get your copy:
—>101 ESL Activities: For Teenagers and Adults<—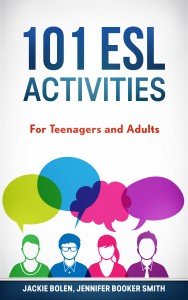 Have your Say!
Do you have any go-to ESL activities or games that you use every single semester? Leave a comment below and let us know your thoughts.