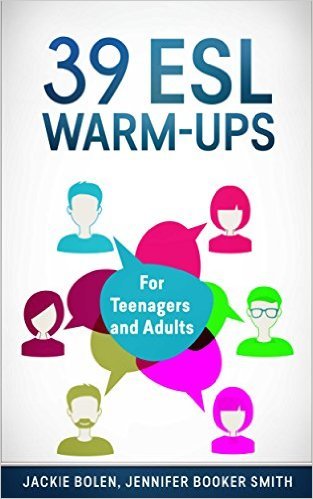 Jumping right into the lesson without a quick warm-up can be tough going. Try out an ESL warm-up or icebreaker and you'll notice a big difference. By the time you get to the main heart of the lesson, students will be settled and ready to learn.
Don't believe me? Try it out for a couple of weeks and I think you'll notice the difference! Your students will be happier and we're sure you will be too.
Awesome Classes, Easy Lesson Planning
Do you want to make your classes awesome and your lesson planning easy? I'm sure that all teachers do. However, it's not so easy when you're tired and pressed for time due to having to teach so many classes each week. We understand completely. And of course, we've been there ourselves too.
However, it really is possible to plan amazing classes that your students will love in a short amount of time. 39 ESL Warm-Ups: For Teenagers and Adults is the book that belongs in your teaching resource library because it will help you get your classes started well. A good beginning is key to a good finish.
Ease Your Students into English
Many of your students will not have spoken English or even given it a single thought since you last saw them. By beginning your lesson with a warm-up activity, you are doing a number of things. First of all, you are easing them back into using English. Next, you are orienting them to the upcoming lesson. Finally, you are focusing them on the work ahead. All of these things can pay off big-time in terms of a better learning experience.
ESL warm-ups really are a valuable use of class time, but it can be difficult to come up with news games and activities for each class to keep things fresh and interesting for your students.
Tired of Wasting your Time?
And maybe you're like me and are tired of searching around on the Internet for fun, engaging and interesting ESL warm-ups that your students will enjoy. I wasted so much time that I eventually decided to write a book that would help out my fellow teachers.
Well-Organized and Easy to Understand Explanations
The TEFL activities are very well-organized. They start with a brief overview so that you can tell, at a glance whether or not it'll be a good activity for your class. Then, it moves into the detailed, step-by-step instructions. They show you what to do before class for prep, during class with your students and then some optional follow-up.
Awesome Teaching Tips Too
Don't forget the teaching tips too. They'll help you avoid the most common mistakes. If there's a mistake that has been made with one of these activities, we've most certainly don't it. And our goal, of course is to help you avoid it!
This way, you can have as awesome of an English class as possible. Yes, it really is this easy to have better English classes!
Seriously. Try an experiment and start with an ESL warm-up. Our guess is that you'll notice the rest of your class goes that much more smoothly.
ESL Teaching Awesome, Coming Your Way
Jackie Bolen and Jennifer Booker Smith have 20+ years of experience in the ESL classroom.  They've joined forces to bring you their 39 favourite ESL warm-ups for teenagers and adults that will get your students energized, active and engaged, right from the start of class.
Awesome classes, easy lesson planning: you've come to the right place!
ESL Warm-Ups on Amazon
You can get 39 ESL Warm-Ups: For Teenagers and Adults on Amazon in print and digital formats. You can read the digital one on any device-smartphone, tablet, Mac, or PC by using the Kindle App.
Keep a copy on the bookshelf in your office as a handy reference guide. Or, take a copy on your phone or tablet to your favourite coffee shop to do some lesson planning.
It really is that easy to plan the first few minutes of each of your lessons in no time. Mix things up and keep students on their toes with a variety of these fun, engaging ESL warm-ups games and activities.
Click the link below to get your copy now:
39 ESL Warm-Ups: For Teenagers and Adults on Amazon
One of my Favourite Warm-Up Activities
Just a Minute is an excellent example of a quick warm-up activity you can do with your students. It will help get them used to speaking English again. Learn more about it in this video below:
What Do You Think about these ESL warmers?
Do you have any go-to warm-ups for your classes? Or, have your tried any of the warmer activities in this book? Leave a comment below and let us know. We'd love to hear your thoughts.
Also be sure to give this article a share on Twitter, Pinterest, or Facebook. It'll help other busy teachers, like yourself find this useful teaching resource.