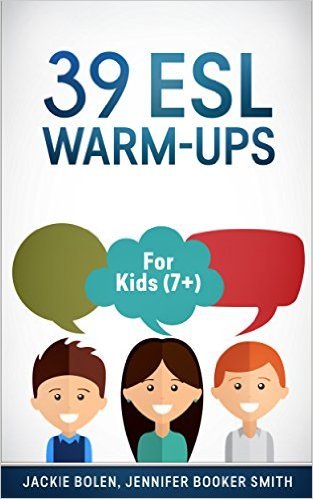 ESL Warm-Ups for Kids
Want to make your classes awesome and cut lesson prep time in half? You need ESL Warm-Ups for Kids.
Many of your students will not have spoken English, or even given the class a single thought since your last class together. Begin the lesson with a warm-up activity or game that eases students back into using English, orients them to the upcoming lesson and focuses their attention on the work ahead.
A Valuable Use of Class Time
ESL Warm-Ups are a very effective use of class time and I always start every single one of my own classes off with them. Students always tell me that they really appreciate them and find them useful. But they also tell me that I'm the only one of their teachers who uses them. I hope to change this and bring awesome ESL warm-ups to teachers around the world. It's easier than ever to be a great teacher! Make the best use of your class time possible.
Stop Wasting your Time!
Effective warm-ups are a valuable teaching tool, but finding good ones takes time. And we all know that time is a scarce resource for most teachers. You've probably had a similar experience to myself, of searching around on the Internet trying to find the one activity or game that will actually work for your classes. I know that I've wasted more hours than I'd like to be reminded about. There really is a lot of crap out there that's terrible!
None of the Junk-Just the Good Stuff
That's what makes ESL Warm-Ups so valuable-it's only the good stuff and none of the junk. It will help you get your class back into the English mindset while reducing prep time. This will allow yo to focus on other important teaching tasks. Or, let's be real-just get caught up on your grading. 39 ESL Warm-Ups for kids is lesson planning made easy, guaranteed.
Get 39 ESL Warm-Ups Today
If you want to get your ESL or EFL classes for kids off on the right foot, 39 ESL Warm-Ups for Kids 7+is the book you need!
It's available on Amazon in both physical and electronic formats. The good news is that you can get the electronic version instantly even without a Kindle. You can download the free Kindle reading app on any smartphone, tablet, Mac or PC in just a few seconds. Click the link below to get this valuable resource on Amazon now.