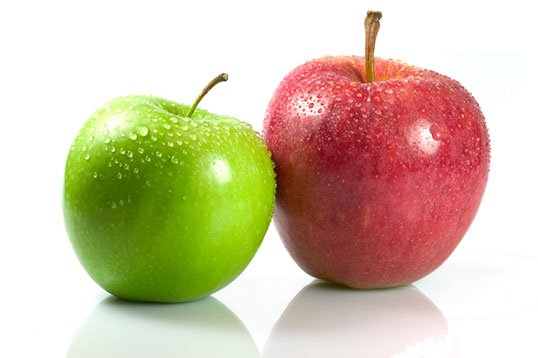 Are you looking for a fun, engaging vocabulary game for ESL students? Then this one should be at the top of your list.
Keep on reading to learn more about how to use it in your class, deck building options, how to play Apples to Apples, online version and more.
Apples to Apples ESL Vocabulary Game
Skills: Listening/speaking
Time: 30+ minutes, including deck-building
Level: Intermediate to Advanced, age 9+
Materials Required: Paper, pen/pencils, textbooks, and scissors
Apples to Apples is a vocabulary game in which players defend their choice of card played. This version is somewhat different than the actual game, in order to increase the speaking time.
Before playing, students need to make two decks of cards using vocabulary words. This is best done at the end of a semester or book so that there are more words to play with. You may also want to encourage them to brainstorm words they've learned previously. Of course, you can make your own deck for this game for the classroom but I find it beneficial to get the students to help you do this.
Deck Building Options for Apples 2 Apples
For deck-building, divide the students into at least two groups: nouns and adjectives. If you have a large class, you may wish to further divide them, for example, into person, place and thing groups.
The groups should compile as many nouns and adjectives as they can. To keep the two decks easily identifiable, you may wish to use two colors of paper or blank and ruled paper, which has been cut into 8-10 pieces.
If you want to play, but don't have time to spend on deck building, you can buy Apples to Apples Junior. I find that the level of this game is generally quite appropriate for English learners. Check out the game on Amazon:

How to Play Apples to Apples
When the groups have finished creating their cards, collect them, keeping the nouns and adjectives separate. Divide the class into groups of 5-8 students and have each group pick a judge. This person will be in charge of the decks of cards and also will have to choose the winner of each round. Each judge should be given an equal share of the two decks.
Have one group help you play a demonstration round in which you are the judge. Deal each group member five noun cards. Turn over one adjective card and have each student choose the noun card in their hand that best matches the adjective and give it to you. Read each of their cards and have them explain why their word is the best match. When all students have spoken, announce which card is the winner, and why.
Have the judge in each group deal five noun cards to their groups and turn over/display one adjective card per round. Each player must choose the noun card in their hand which they feel best matches that adjective and give it to the judge. The judge takes all of the noun cards and shows each card one at a time. Each player must defend their card when the judge shows it.
This game is also ideal for focusing on a single topic such as rooms of the house.
Example of How to Play this English Vocabulary Game
If the judge draws the word big, the other students may submit nouns like watermelon, elephant, heart, and day. The students could then defend their choices with a single sentence:
A: A watermelon is a big fruit.
B: An elephant is a big animal.
C: A kind person has a big heart.
D: An important day is a big one.
The students should then be encouraged to keep talking in order to convince the judge that their answer is the best.
When all players have spoken, the judge will decide the winner of that round. Each player will be given one more noun card by the judge. The judge will then give both decks to the winner of the round who becomes the new judge. He/she turns over the next adjective card to start the next round. If there are not many cards (vocabulary words) to play with, you may want to mix the discards back in to the live decks.
Apples to Apples ESL Vocabulary Game Teaching Tip
While you can save a fair bit of class time by preparing the decks yourself, you can sneak in a bit of parts of speech review for students if they have to make the cards themselves. Additionally, as they are compiling the decks, students are also likely to come across words they have forgotten. This gives them a chance to discuss vocabulary with their teammates before the game begins (at which point their teammates will have little incentive to help.)
Procedure:
Before class, prepare cards by cutting sheets of colored printer paper into 8-10 pieces. Two different colors should be used.
Divide students into groups to build two decks of cards: nouns and adjectives. Students should use their textbooks and also brainstorm as many words as they can and write one word per card.
When the decks are ready, divide the students into groups of 5-8.
Divide the two decks equally between the groups, keeping the two separate.
Have one group come to the front of the class to demonstrate. You will be the judge.
Turn over one adjective card. Have your group look at their cards, choose the noun that best matches the adjective, and give it to you.
Read each noun card and the student who gave it to you must defend their choice (see example above). Choose the best answer and tell the class why.
Have each group play rock-scissor-paper to choose the first judge for their group and play one round.
After each round, each player is dealt a new noun card, and the winner becomes the new judge (or you can have them rotate in a circle.)
Used cards can be mixed back into the decks if there aren't many cards
FAQs about Apples to Apples
There are a number of common questions that you might want to know the answers to before trying it out in your English classes.
How Many Versions of Apples to Apples are There?
There are a few different versions of this game, including one for adults, a junior version, a Disney one, and one that has big pictures. You can see some of the most popular ones here:
Can I Play Apples to Apples Online?
Do you love this game so much and want to play, even when you don't have any friends or classmates to do it with? The good news is that you can play Apples to Apples online games. Here's the link: Online Version.
Vocabulary and Card List
If you want to see all the words in one complete list, look no further than here: Vocabulary (adult and junior).
How Many Cards in Apples to Apples?
While you can get expansions and different versions of this game, the original box set contained the following:
108 green cards (Adjective cards)
324 red cards (Noun cards)
How to Play the Junior Version of Apples to Apples
If you want to buy this game for your students to try out, but want to see how difficult it is to play, you may want to know the rules. You can find them here: Junior Rules and Game-Play.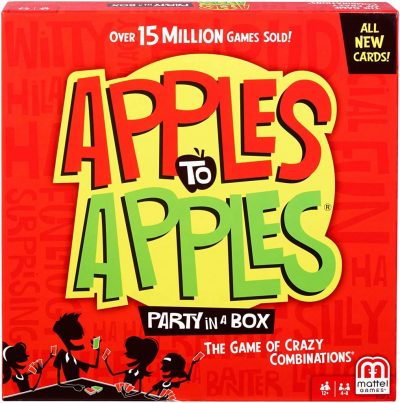 Should I Make My Own Cards, Print Some From Online, or Buy the Game?
The choice is really up to you! If you plan on playing this with multiple classes, then perhaps consider buying the game. It's reasonably priced and we find the vocabulary simple enough for most ESL students (stick with the junior version for kids though).
If you want to target specific vocabulary, make your own noun/adjective cards.
Finally, if you're very frugal, but kind of lazy, print some cards off from online! Here's the link for that: Printable Cards.
Do you Like this Game?
If you like this this ESL vocabulary game, then you're going to love this book, 39 ESL Vocabulary Activities: For Kids (7+). There are almost 40 fun, interesting and engaging ESL vocabulary games and activities. This ESL vocab game is straight from this book. Make teaching ESL vocabulary less tedious than it usually is!
The key to better English teaching is a variety of student-centred activities and games and this book will help you get there in style. You'll be able to make it through an entire semester easily and keep things fresh and fun.
Digital and Print Formats
You can get the book in both digital and print formats. The cheaper digital one can be read on any device by downloading the free Kindle reading app. It's easier than ever to have ESL vocabulary activities and games at your fingertips.
Take the digital copy with you to your favourite coffee shop for lesson planning on the go. Or, keep the physical copy on the bookshelf in your office and use it as a handy reference guide. It really is that easy to make your English classes better!
Does it sound like exactly what you need? You can check out the book on Amazon but only if you want to get yourself of ESL teaching awesome in your life:

Apples to Apples for English Learners: Join the Convo
What are your thoughts about using this popular game for ESL classes, either kids or adult? And, have you tried it out in your classes? Leave a comment below and let us know what you think about Apples 2 Apples. We'd love to hear from you.
Also be sure to give this article a share on Facebook, Pinterest, or Twitter. It'll help other busy teachers, like yourself find this useful resource.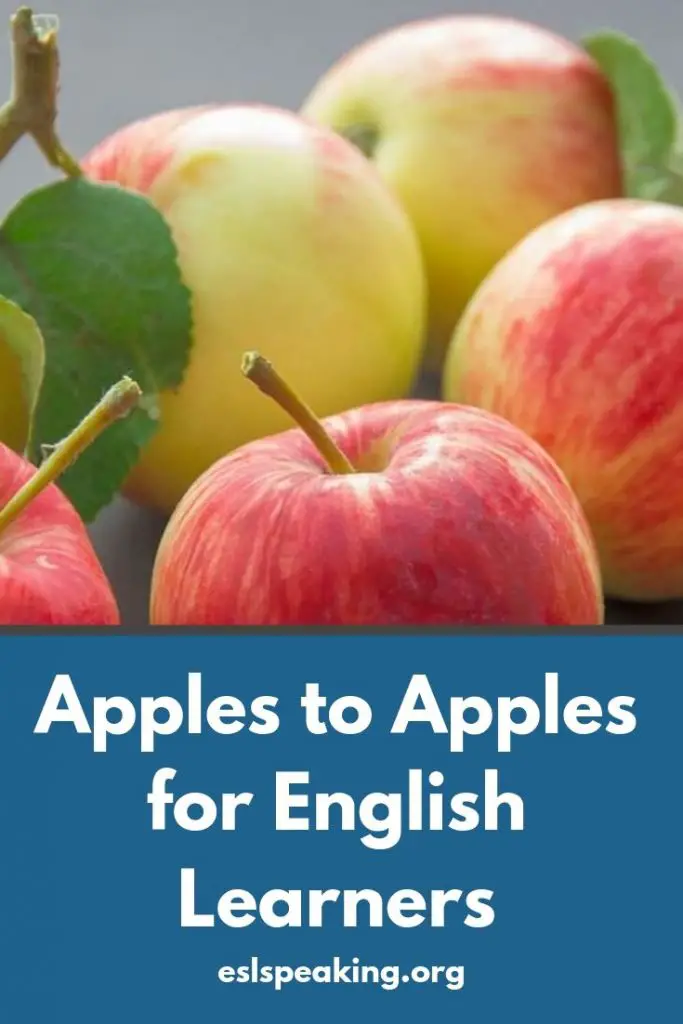 Last update on 2023-09-30 / Affiliate links / Images from Amazon Product Advertising API