Are you looking for as ESL textbooks for high school students, university students, or adults? If your answer is, "YES!", you've come to the right place.
I'll review my favourite ESL books for adults. I have 10+ years of experience teaching adults in South Korea so I've seen all the ESL textbooks come and go. Only the best ones here for you!
Top 5 ESL Books for Adults
Here are my top 5 ESL textbooks for adults, along with my favourite ESL activity book that you can use to supplement your lessons. While these ESL Textbooks for Adults are all 4-skill books, the focus in all of them is primarily on speaking, with a nice variety of communicative activities perfect for beginners to advanced students.
All of these ESL textbooks would work well with high school or university students and adult ESL learners.
Keep reading for my picks for some of the best ESL textbooks for teenagers as well as adults.
The Best ESL Textbooks for Adults
Smart Choice: A Nice Pick for an ESL Textbook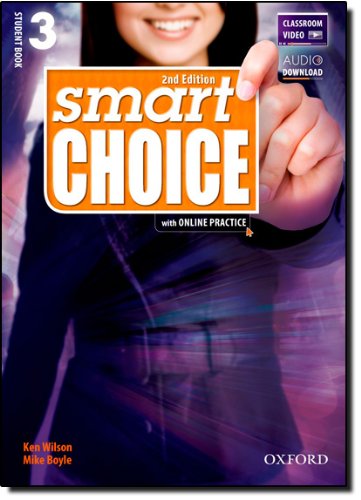 Smart Choice by Ken Wilson is a great choice if you want to make your classes interesting and educational with this ESL book for adults.
The pages contain a good mix of information presented in a clear way and practice exercises. The topics are reasonably interesting for university students and there isn't much in the way of irrelevant or annoying stuff.
Overall, I would strongly recommend this series for young adults at the high school or university level. In my opinion, it's one of the best ESL conversation books for university students or adults.
The only major negative to smart choice is that there isn't a lot of material on each page. Some teachers may love this, but I often found that there wasn't really enough to do, especially if you're in a program where you have to teach a specified number of pages per day.
However, the topics in Smart Choice are interesting enough and it's easy enough to supplement with some ESL activities and games.
There is also a Smart Choice Teacher's Resource Book and Smart Choice Workbook to go along with the main activity book.
You can easily get the Smart Choice ESL Textbook series on Amazon today:
---
World Link: Another Solid ESL Textbook for Adults
World Link makes an excellent choice for beginner adult students. It's definitely one of my favourite ESL books for adults.
The World Link Intro in particular is easier than most of the other 4-skills ESL textbooks. This makes it one of my favourite ESL books for total beginners.
If you need some ESL activity ideas for this group of students, check out: Top 10 ESL Activities for Total Beginners.
World Link has so many great activities in it that you won't need to spend a lot of time doing additional prep. They present the grammar and vocabulary sections in a simple way that's manageable for a single class.
The Teacher's Resources Book and  Teacher's Edition also come with lots of useful supplementary materials. This fact alone makes it one of the best ESL textbooks. Not a lot of prep? Yes please! I'll take that in an ESL textbook just about any day.
Although it's a 4-skills book, the focus is mostly on speaking. This makes it a particularly good choice for an ESL conversation book.
I personally used this book for years and loved it. My university students in South Korea did too-the topics are interesting and the activities are engaging.
Get the World Link series on Amazon today:
---
Four Corners: The Best New ESL Textbook for Adults
Four Corners is an excellent 4-skills book with a heavy emphasis on communicative spoken activities. This makes it one of my favourite ESL conversation books.
The students are active, engaged and interested in the topics and the grammar and vocabulary are nicely presented in a way that's really easy to understand. 4 Corners makes a great choice for your high school, university or adult ESL classes.
The best part about this ESL textbook is that there isn't any fluff. Quite literally, almost every single page in the entire textbook is solid and I'd use it in my classes without hesitation.
Compare this to some of the crappy ESL textbooks, where I'd only use about 5-10% of the material in the book. If you want to make your lesson planning easy, check out Four Corners. You'll find that you have to supplement very few lessons with extra material.
This is the best new ESL Textbook to come onto the market in years! If you're serious about communicative, engaging and fun ESL classes that are focused on speaking, then Four Corners is what you need.
You can get the Four Corners ESL Textbook for Adults on Amazon today:
---
Touchstone: The Second Edition is Much Better than the First!
If you're looking for a 4-skills ESL textbook series that can take students from high-beginner to very advanced, Touchstone is it. There are 4 levels in this series that cover just about all the major grammar and vocabulary points that beginner-high intermediate students could possibly need. It's one of the most well thought out, detailed ESL books for adults that you could every want!
If you want to bring your students from beginner to high intermediate level, then Touchstone will do that. It's obvious that this ESL textbooks series is written by pros who really know how to help students progress in a well thought out, organized way.
I previously didn't like Touchstone that much, but Cambridge has really improved the quality of their second version and I now recommend it without hesitation. The second version has lots of solid material and it's easy to teach from this book without a lot of supplementary materials.
Also check out my Full Review of the Touchstone ESL Textbook Series.
Or, just get the book for yourself on Amazon:
Touchstone 4-Skills English Textbook
---
Jazz English: An ESL Textbook for Free-Talking
It's not uncommon to have a class with adults where the goal is, "free-talking." They often just want to chit-chat about everyday things. This works well if students are chatty, excited to be talking to you, and have a lot to say. For example, in Europe, students usually aren't shy and it's easy to have this free-wheeling style of class.
However, in places like South Korea, students are often quite shy and reluctant to share their opinions in class. This can make it extremely difficult on the teacher to have a "free-talking" class. I, myself hated these classes when I taught in South Korean university and would generally avoid them at all costs.
If forced to do them, I would often use this ESL textbook for adults, Jazz English, Freestyle Conversations Using Real World English. Students loved the topics, and it got them almost "free-talking." It's much easier for them to do it when they're shy if they have a list of questions they can talk about with their partner. A bit of support goes a a long way, and it also makes it much easier on you!
Jazz English made me actually enjoy "free-talking" classes! Yes, believe it or not!
The biggest negative to this book is that it's designed for Korean students. There are Korean-English translations, etc. However, it can be used by teachers in other countries because the topics are mostly universal. But, don't suggest that your students buy the book unless you live in Korea. Keep Jazz English on your bookshelf as a resource for free-talking lessons.
You can buy Jazz English on Amazon:
---
ESL Workbooks
If you're looking for the ESL workbooks that correspond to each of these ESL textbooks previously mentioned, check out these links which will take you to Amazon:
---
ESL Activities and Games for Adults
If you're looking to supplement your ESL or EFL classes with teenagers, university students or adults, then the book you'll need is: 101 ESL Activities: For Teenagers and Adults. There are tons of fun, engaging and interesting ESL activities to make your classes awesome. Plus, it'll help save lots of time when planning your lessons.
Maybe you used to spend so much time searching around on the Internet for those one or two ESL activities you could actually use in your classes? No more! Just pull this book down off your shelf and away you go. Everything in the book is classroom tried and tested, and what's left is just the good stuff you can actually use. No fluff and filler = ESL Awesome!
The best part about 101 ESL Activities for Teenagers and Adults is that it's available in both electronic and print formats. The (cheaper!) e-version can be read on any device-Mac, PC, smartphone, or tablet. You just have to download the free Kindle reading app.
You can get yourself some of this ESL activity book awesome on Amazon today:
101 ESL Activities for Teenagers and Adults
---
The Best ESL Textbooks and Workbooks? 
Please comment below and let us know what are the best ESL textbooks that you've seen. Or, perhaps the best ESL conversation books.