Homonyms are words that sound the same or look the same but have different meanings. For example, "bat" can refer to a stick that you use to hit a baseball, or it can refer to a nocturnal animal. Keep on reading for some examples of homonyms, along with sentences and pictures.
Examples of Homonyms
Take a look at these homonym examples. Scroll down to the next section to see the pictures and example sentences.
 band
bat
date
fly
letter
match
mean
palm
park
right
ring
rock
ruler
spring
tie
trip
Homonyms with Pictures and Sentences
Check out these homonym pictures and sentences.
band
Is there a band playing tonight?
Do we have any rubber bands?
bat
Look at all those bats flying around.
What size baseball bats do we have?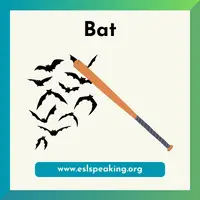 date
I'm going on a date tonight with a new guy.
What's the date? June 3rd?
fly
Will you drive or fly to LA?
Where is that fly? I want to kill it!
letter
That word begins with the letter C.
Why don't you write a letter to your grandma for her birthday?
match
Keith and Cindy are a good match. They get along so well.
Pass me a match. I'll light the fire.
mean
My teacher is so mean.
Let me calculate the mean of these numbers.
palm
I want to move to a place with lots of palm trees.
Let me look at your palm. I can tell your fortune.
park
Park on the street in front of my house when you come over.
Let's take Bingo to the park after dinner.
right
Turn right at Wilson Street and then you'll see it.
You're right about that.
ring
You're going to ask Jen to marry you? Did you buy a ring yet?
Give me a ring when you're done work.
rock
Find some flat rocks so we can skip them.
You really rocked that math test!
ruler
Who was the ruler of England in 1910?
Do we have a ruler? I need to bring one to school tomorrow.
spring
Spring is my favourite season.
I think this spring needs to be replaced.
tie
Please wear a suit and tie to the event.
How did the game end? In a tie?
trip
I tripped over the clothes on the floor and hurt my knee.
Let's take a trip to Thailand next year.
Homonym Examples Chart
Have a look at this chart with some homonym examples and pictures.
Examples of Homonyms FAQs
There are a number of common questions that people have about these homonym examples. Here are examples of some of the most popular ones.
Can you explain the term "homonyms"?
Homonyms are a general category that includes both homophones and homographs. They encompass words with the same spelling or pronunciation but different meanings.
Provide an example of a word that is both a homophone and a homograph.
"Bow" can be a homophone (like the bow of a ship) and a homograph (a ribbon to tie a bow) depending on the context.
How can context help in understanding homonyms?
Context is crucial in determining the correct meaning of homonyms, as it provides clues to the intended interpretation.
Are there regional variations in homonyms?
Yes, regional accents and dialects can affect the pronunciation of homophones, leading to variations in different parts of the world.
Can you give an example of a pair of homonyms with more than two meanings?
"Bank" can refer to a financial institution, the side of a river, or tilting to one side, showcasing multiple meanings for the same word.
Learn More English Vocabulary
Now that you've mastered these examples of homonyms, it's time to turn your attention to some other things. Here are a few suggestions:
Homonyms Examples with Pictures: Join the Conversation
Do you have any homonyms that you'd like us to add to the list? Leave a comment and let us know. We'd love to hear from you.