Group writing activities are not that easy to come by as writing is generally an individual activity. However, this Choose your Own Adventure one is one of the best. It's interactive, engaging and students love using their creativity to come up with the various endings for this choose your own adventure story.
Keep on reading to find out all the details you need to know about this group writing activity for English Learners.
Choose your Own Adventure Writing Activity
Skills: Speaking/Writing
Time: 1+ class periods
Level: High Beginner* to Advanced
Materials Required: Blank story maps
Optional Materials: Story starters
Choose Your Own Adventure stories are fun to read, and can be fun to write. The group aspect can be helpful for brainstorming story ideas and, of course, many hands make light work. Even the students most resistant to writing will appreciate that ¼ of a story is less work than an entire story.
*This activity will work best with Intermediate and above students, but adventurous High Beginners could enjoy creating simple stories.
If students are unfamiliar with this style of story, show them this example: www.halfbakedsoftware.com/quandary/version_2/examples/castaway.htm.
To begin the writing activity, divide the class into groups of four. Either give students a scenario that requires a choice to be made, or allow them to brainstorm their story from start to finish. Each student will need a blank story map to plan their writing. Each group should work together to begin their story, then break into pairs to write the second stage, and finally, each writes one ending. They will need to discuss the options they write about, so they will each have something different.
Possible Scenarios
Some examples of scenarios are:
You go to several job interviews and are offered three jobs: one that is highly paid but will require you to work long hours and live away from your family; one that is low paid, but is rewarding and will give you plenty of free time; and one that has no salary, but pays a high commission and allows you to work the hours you choose. Which job do you choose? (more ideas here: Job ESL Activities).
Your friend falls and breaks a leg while the two of you are hiking. You cannot get a phone signal. Your friend knows how to read a compass and map, but you do not. Do you turn back alone and try to retrace your steps, stay and hope that someone else passes by, or try to carry your friend back?
You are on a space ship that has just arrived on a new planet. You don't know what to expect when you open the doors. Do you send one person out to explore alone or stay together? Do you walk out with your weapons ready to fire or with your arms open to show you aren't dangerous?
1 Beginning, 2 Middles, 4 Endings
Each group would need to choose two of the options and break into pairs. Each pair would write about one option that leads to another choice. For example, with Scenario A, the choice could be about taking a promotion that changes the working conditions (for example, the low-paid rewarding job could lead to a raise, but much more paperwork), buying a house, starting their own business, etc.
Since the two pairs are following different options already, they do not need to face the same type of choice, unless you want them to. So, one pair may choose between staying at the low-paid job they enjoy or being promoted, even though it wouldn't be as enjoyable and the other pair could choose between buying a fancy house with a big mortgage or paying cash for a small apartment.
When each pair has a new choice to make, each person will choose one option. Working individually now, each person would finish the story by following the option they have chosen. So, there will be one beginning, two middles, and four endings.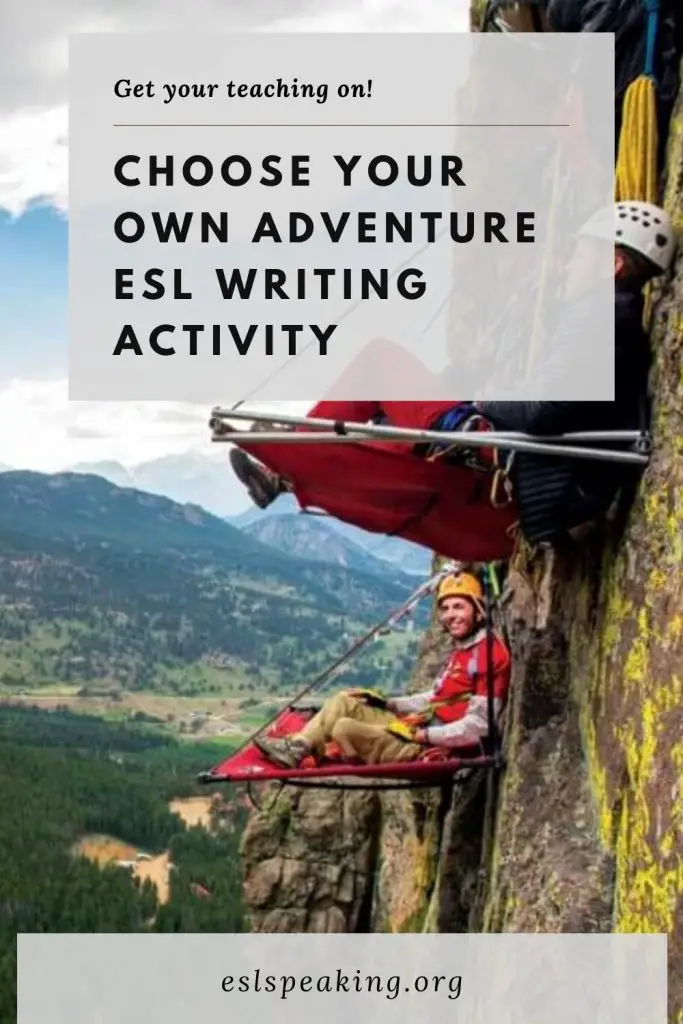 Procedure for Choose your Own Adventure Writing Activity:
Begin by asking students if they are familiar with Choose Your Own Adventure stories. If not, show the example linked above.
Divide students into groups of four. Either give a scenario (several are suggested above), or have each group brainstorm their own.
All four group members will collaborate at the beginning of the story, up to the first point of making a decision.
The group will divide into pairs and each pair will collaborate on one option each.
When the next option is given, each student will choose one option and write that ending for the story. So, there will be one beginning, two middles, and four endings.
Students can join together with another group who "reads" the story and chooses which options they want. Repeat as many times as time allows with new groups.
Do you find the lights in your classrooms quite harsh? Consider getting some of these: fluorescent light filters.
Did you like this ESL Writing Activity?
Yes? Thought so. Then you're going to love this book over on Amazon: ESL Writing Activities, Games and Teaching Tips. The key to better English classes is a wide variety of interesting, interactive, student-centred and engaging ESL activities and games. This book will help you get there in style!
You can find it in both digital and print formats. Consider picking up a physical copy to keep on the bookshelf in your office to use when lesson planning. Or, take the ebook with you to your favourite coffee shop on any device for a serious lesson planning session on the go. It's super easy by downloading the free Kindle reading app.
Check out the book for yourself on Amazon, but only if you want to get yourself some ESL teaching awesome in your life:

Have your say about this Choose your Own Adventure ESL Writing Activity
What do you think about this group writing activity for English learners? Is it a winner or do you have another one that you'd like to recommend? Leave a comment below and let us know what you think. We'd love to hear from you.
Also be sure to give this article a share on Facebook, Pinterest, or Twitter. It'll help other busy teachers, like yourself, find this useful resource.
Last update on 2022-04-17 / Affiliate links / Images from Amazon Product Advertising API