I love to have a few no-prep, no materials required ESL speaking and listening activities in my back pocket. I'm sure everyone does who sets foot in a classroom! After all, you never really know when you're going to get a last-minute class thrown at you, or have a few extra minutes at the end of class with nothing planned.
Fortunately, Unfortunately is a quick, fun ESL activity to try out that takes just a couple of minutes. It's also ideal for private 1-1 teaching as a warm-up. Try it out for yourself and then leave a comment and let us know how it went.
Fortunately/Unfortunately ESL Speaking Activity: How to Do It
Skills: Speaking/listening
Age: 9+
Materials Required: None
Time: 5 Minutes
You may have done this speaking and listening activity at school yourself. Start of by telling students some good news (something that "happened to you") followed by some bad news. I generally pick something that happened on my way to school that morning, or the previous night.
For example, "Unfortunately, my car wouldn't start this morning. Fortunately, my neighbour gave me a ride to school. Unfortunately, she drove through a red light. Fortunately. . ."
Students will then generate similar language using fortunately/unfortunately or luckily/unluckily. If you have a small class, or teach a student privately, just do it together.
However, for bigger English classes, you may want to put students into pairs or groups of three so that you can increased their student talking time. If you choose to do it this way, you can elicit some of most interesting sentences from the students at the end of the activity. Usually, you can uncover a fun story or two about what happened on the way to school!
Procedure for this ESL Speaking and Listening Activity:
1. Divide students into small groups of 2-3. Or, if you teach private classes, you and the student can do this activity together.
2. Give them a scenario (something that "happened to you"), alternating between good and bad news. For example, "Unfortunately, my car wouldn't start this morning. Fortunately, my neighbour gave me a ride to school. Unfortunately, she drove through a red light. Fortunately. . ."
3. Have students take turns within their groups adding one element at a time. Each addition should change the story from good to bad or vice versa.
4. Give students a time limit (4-5 minutes or so) or have them take 2-3 turns around the circle. Use your discretion to decide what will work best for your students.
Fortunately/Unfortunately in Action
Learn more about this quick ESL warm-up or filler speaking activity in the short video below:
Do You Like this ESL Speaking Activity?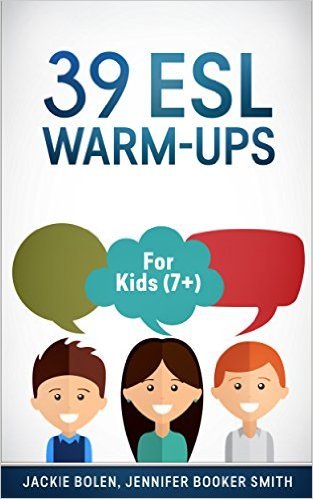 Do you want to try this activity out in your classes today? Or, you used it and it worked well?
Yes? Thought so. Then you're going to love this book available on Amazon: 39 ESL Warm-Ups: For Kids (7+)
.
There are nearly 40, top-quality English warm-up activities and games that you can try out if your classes today. Keep your students entertained and make your lesson planning easy.
Seriously, there's a warm-up for every single class of the semester. Mix things up and keep your students on their toes with a variety of interesting things to do in you classes.
The book is available in both digital and print formats. The cheaper digital copy can be read on any device by downloading the free Kindle reading app.
Keep a copy on the bookshelf in your office. Or, have one on your phone or tablet for lesson planning in your favourite coffee shop. It really is that easy to create varied, interesting ESL or EFL lesson plans. Start your lessons off on the right foot today.
Check out the book for yourself today on Amazon, but only if you want to get yourself some ESL Awesome in your life:
—>Get 39 ESL Warm-Ups for Kids on Amazon<—
Have your Say about Fortunately/Unfortunately!
What are your thoughts about this ESL speaking activity? Or, do you have a go-to ESL activity that you use to practice this vocabulary point? Leave a comment below and let us know. We'd love to hear from you.
Also be sure to give this article a share on Facebook, Twitter, or Pinterest to help other teachers, like yourself find this teaching resource.