Are you looking for a quick ESL game for when you're teaching the grammar point, can/can't. Then keep on reading to find out more about this fun can can't activity to try out with your ESL/EFL students today.
Can Can't ESL Game
This can can't ESL game is great for practicing speaking, listening and writing. It's a game for children or adults, but the content is usually covered with children more than adults. Can/Can't is a very basic grammatical concept and most adults will already be familiar with it unless they're absolute beginners.
Don't teach beginners? Check this out:
Related: ESL Activities for Advanced Level Students
How to Play Can/Can't
To play this can can't ESL game, put the students in teams of 2, 3, or 4 depending on how big your classes are. They have to pick 1 animal, and 1 thing, but must keep it a secret from the other teams My 2 examples that I give the students are:
Animal: Giraffe
It can eat leaves
In Korea, it can't live outside of a zoo
It can see easily over tall things
Thing: Air Conditioner
I can see it now
It can be bad for the environment
It can help me in the summer but it can't help me in the winter.
The students write their 2 secret words, as well as their 3 hints for each one. Then you collect the papers and use them to play a game.
Some Different Variations of this ESL Game
There are various ways you can do it, but I will go in a circle based on where the teams are sitting. The team whose paper I'm reading has to be quiet and can't give hints. The first team get the first hint and then they can have a guess. If no answer, the next team gets hint #2 and a guess and so on it goes.
If the three hints don't do it, I'll give additional hints so make sure your students write the answers on the paper as well.
Need More Ideas for the ESL Classroom?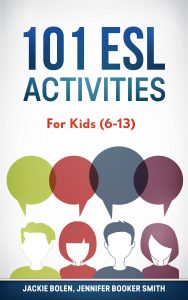 Want more ideas of things you can try out in your ESL classes with young learners?
Then you're certainly in the right place. You'll need to check out this book over on Amazon: 101 ESL Activities for Kids. It's packed with top-quality games and activities to make your classes engaging, interesting, and best of all, help your students learn English.
Enough ESL Games and Activities for an Entire Semester
The key to students who want to learn is a variety of interesting activities. Mix things up and don't do the same, boring things every single class. There are enough activities in this book for an entire semester.
Organized into to Easy to Find Sections
The good news is that the book is well-organized into various sections: reading, writing, speaking, listening, reviews, warm-up, grammar, etc. This means that you'll be able to easily and quickly find what you're looking for in a few minutes before your lesson.
Available in a Variety of Formats
The even better news is that it's easier than ever to get the book. You can get a physical copy, or you can have a digital copy on any device by downloading the free Kindle reading app.
Keep a copy on the bookshelf in your office to use as a handy reference for a serious dose of lesson planning. Or, bring the digital copy with you to your favourite coffee shop for lesson planning on the go. It really is that easy to make your English classes even better.
Shop Now
Check out this book filled with ESL activities for kids today. But, only if you want to get yourself a serious dose of ESL teaching awesome in your life:
Teaching Can and Can't: Tips or Tricks? 
What are your thoughts about can/can't? Would it work with your ESL students? Or, have you tried it out? Leave a comment below and let us know what you think. We'd love to hear from you.
Also be sure to give this article a share on Twitter, Pinterest, or Facebook. It'll help other teachers, like yourself find this useful teaching resource.