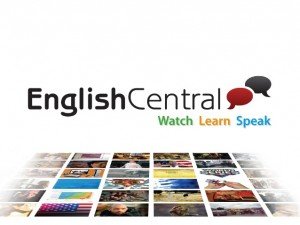 Do you like to use videos in your classes, but have a difficult time finding the one on YouTube that is at the right level for your students? Then search no more! Just use English central.
Keep on reading to find out more about this valuable teaching resource.
English Central: YouTube for English Teaching!
Kids as well as adults love videos and they make excellent language teaching tools. The only problem is that many of the videos on YouTube are too difficult, especially for beginners.
However, there is a good option! English Central.  You can search by level and find just about anything you could possibly want. Keep reading for how I use English Central in my own ESL classes in South Korea.
A Listening and Speaking Activity
Skills: Listening/ Speaking
Time: 10-15 minutes
Level: Beginner to Advanced
Materials Required: Internet connection
English Central is YouTube for language learners. There is premium content and functionality, but you can enjoy many features for free. YouTube has subtitles on some videos, but English Central takes it to the next level. The videos have been curated and organized by level, topic, and/ or language skill and each video is segmented for easy replay of a chunk of speech. Students can also click on a single word to hear it pronounced slowly and clearly.
One activity you can use English Central for is pronunciation. Have your student listen to a clip and repeat. The videos for young learners are fairly simple, with slow, and clear speech. You can pause after each phrase or sentence and repeat as needed.
Begin by playing the entire clip from ELS Englishcentral once or twice. Then, replay the clip bit by bit for the student to repeat. Each clip is a short story, so you can also watch and discuss and/or summarize a clip as a 120-90-60 fluency activity.
Or, you could have students watch a video and try to pick out all the examples of a certain grammar point. For example, subject and object pronouns or indefinite pronouns (see our top indefinite pronouns games here).
Procedure for Using English Central Videos:
Make sure you will have an internet connection during your class.
Select a video in advance or let your student choose one. There are "courses" which are sets of related videos, which you can work through in a series.
Play the entire clip once or twice.
Play one segment (sentence or phrase) at a time and have the student repeat, trying to copy the pronunciation.
End by watching the entire clip one more time and discussing and/ or summarizing.
Like this ESL Speaking and Listening Activity?
It's from the book, 39 Awesome 1-1 ESL Activities: For Kids (7-13). There are 38 more fun, engaging and interesting ESL activities for private classes with kids. It'll make the Moms happy and your lesson planning easy, guaranteed. And of course, happy moms = more money in your pocket at the end of the month
You can get the book in both digital and print formats on Amazon. Have dozens of top-quality private teaching activities at your fingertips wherever you go. Lesson planning at your favourite coffee shop? No problem.
Or, keep a copy on the bookshelf in your office to help you out with some fun, engaging activities for your students. Trust me, your students won't know that you picked up this book, but what they will know is that your classes are just way more interesting! And, of course, this means happy parents too, right?
Are you ready to get your copy of the book today? Check it out over on Amazon, but only if you want to get yourself some more ESL awesome in your life:
—>Buy 39 Awesome 1-1 ESL Activities: For Kids (7-13) on Amazon<—
Office Vocabulary Practice with English Central
Check out this short example video of what you can find on EnglishCentral:
Are there Any YouTube ESL Lessons that You Recommend?
Okay, so if you've checked out English Central but didn't really find something that you liked, Are there YouTube ESL channels that are particularly good?
As a teacher, you can check out videos made for teachers by teachers. However, if you want to use a video in class to show your students, then your best bet will be videos made for English language learners. You should be able to find on any topic, grammar point or vocabulary set.
Here are some of my top picks for YouTube ESL Lessons.
Have your Say about English Central
What are your thoughts about using English Central in your classes? Leave a comment below and let us know your thoughts. Better than YouTube, or not so much? We'd love to hear from you.
Also be sure to give this article a share on Facebook, Twitter, or Pinterest. It'll help other busy teachers, like yourself find this useful resource.