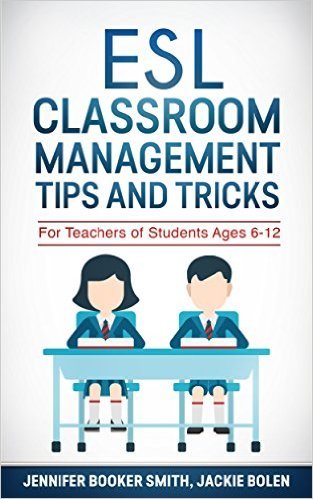 ESL Classroom Management Tips and Tricks
I remember back to when I first started teaching in a hagwon (private language institute) in Korea and how much of a struggle it was. The root of the problem was that I was totally and completely clueless about classroom management and the kids totally knew it. They walked all over me and I basically had no control, for at least the first six months.
Even though I did eventually establish some order in my ESL classroom, it wasn't as happy or as productive of place as it could have been. Over the years, I've figured it out, but it certainly would have been much easier if I'd had an ESL classroom management boot camp of sorts.
Actionable Strategies
I read general ESL teaching resource books, but their sections on classroom management were limited to just a few paragraphs. "Keep order in the classroom." "Give positive reinforcement instead of negative." The suggestions were so general and didn't have any actionable strategies. Useless for someone in the trenches. This is why we wrote this book-to give you actionable ESL classroom management strategies. They actually work!
Some Good News for You
The good news for you is that I've teamed up with Jennifer Booker Smith, the guru of all things teaching English to elementary school kids and we've written a book about ESL classroom management that will help out any new teacher. Old teachers too can benefit and pick up a few new tips and tricks! Keep reading to find out how our book can help you out in your ESL classroom today.
Take the reins in class with these actionable tips and strategies for ESL classroom management.
What more could you accomplish in class, if you weren't losing valuable minutes coaxing students to participate or transitioning between activities? Your students could be getting valuable talking time. They could be improving their reading skills. Anything is more useful than wasting so much time disciplining and coaxing.
Authors Jennifer and Jackie have a combined 25 years of experience in the TEFL classroom.
What You'll Learn in ESL Classroom Management
In ESL Classroom Management Tips and Tricks: For Teachers of Students Ages 6-12, you'll:
Learn how to get the entire class involved.
Discover how to plan a lesson and organize your class.
Learn motivation and discipline strategies that work.
Get some tips for forging a strong, productive relationship with your co-teacher.
Prepare yourself with go-to activities for those "surprise" classes.
And so much more!
Get your Copy Today
Get your copy of ESL Classroom Management Tips and Tricks today and have a less-stressful, more-productive class tomorrow!
Click the link above to get the book easily on Amazon in both digital and print formats. The (cheaper and faster) digital copy can be read on any device. Use your smartphone, tablet, Mac or PC. You just have to download the free Kindle reading app.
If you want to learn how to manage an ESL classroom from teachers who've been doing it for years, check out the book for yourself.