4-skills ESL activities and games are kind of like the holy grail of English teaching and I'm always on the lookout for some new ones to try out. One of the best ones I've done recently is this one: What are you cooking?
In addition to covering a range of skills, it requires essentially nothing in the way of preparation or materials and the students love it too. What's not to love, right? Try out What are you Cooking in your TEFL classes today for all sorts of ESL teaching awesome.
4-Skills ESL Activity: What are you Cooking
Skills: Writing/speaking/listening/reading
Time: 30-60 minutes
Level: Intermediate-advanced
Put students into groups of three and tell them to write down items from each of the following categories:
1 meat
1 dairy product
3 herbs or spices
1 green vegetable
3 more vegetables
1 grain
3 fruits
1 tin of some kind of food
1 jar of some food
something salty
something sweet
Then, collect the papers from the students and redistribute them to the other groups. Explain what a three-course meal is and give the students some examples. If you have access to a computer and PowerPoint, you could use Google Image search and look for a "three-course meal." There are lots of nice examples there.
Each group has 10-15 minutes to plan a three-course meal with their ingredients, along with cooking oil, salt and pepper. However, they are not required to use all the ingredients if they don't want to. It should consist of an appetizer, main course, and dessert.
When each group is finished, give them some time to prepare for their presentation. Each group will present their menu to the class. I usually require that each student in the group talks about one course which is perfect if you put students into teams of three for this activity.
Students can vote on their favourite menu that's not their own! You can prepare a small prize for the winning team.
Procedure for What are you Cooking?
Put students into groups of three. They have to write down the required ingredients in each category. This usually takes around five minutes.
Collect the papers and redistribute them to another team.
Each team must make a three-course menu with their ingredients (appetizer, main course and dessert). They don't have to use all the ingredients. I allow 10-15 minutes for this, and then five minutes to prepare for the next step.
The teams do a short presentation about their menu and the class votes on their favourite.
Did you like this 4-SkillS ESL Activity?
Yes? Thought so. Then you're going to love this book over on Amazon: English Teaching Emergency, No Textbook, No-Prep, No Materials ESL Activities and Games. It's the ultimate teaching resource for teachers who regularly get last-minute classes thrown at them and don't have time to prepare for them.
Keep a copy of this book in your office, or even take it to class with you in case of emergencies or for those few minutes at the of class when you've done everything on your lesson plan and have time to fill.
Does this sound like what you need to level up your teaching game? Then head over to Amazon to find out more details, but only if you want a serious dose of ESL teaching awesome in your life:

Have your Say about What are you Cooking? 
What are your thoughts about this 4-skills ESL activity related to food and cooking? It is a winner or do you have a recommendation for another one? Leave a comment below and let us know what you think. We'd love to hear from you.
Also be sure to give this article a share on Facebook, Pinterest, or Twitter. It'll help other busy English teachers, like yourself, find this useful resource.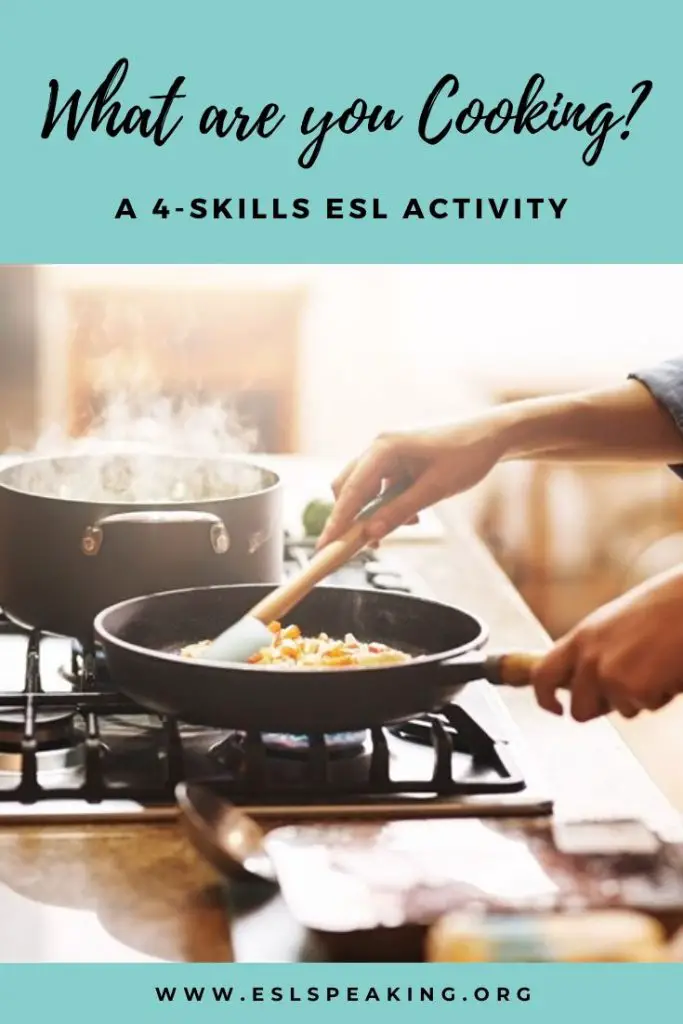 Last update on 2022-10-15 / Affiliate links / Images from Amazon Product Advertising API