If you're looking for some of the best opposites games and activities, then you're certainly in the right place. We have the top opposite adjectives activities, along with worksheets, lesson plans, and other resources. Keep on reading to find out more!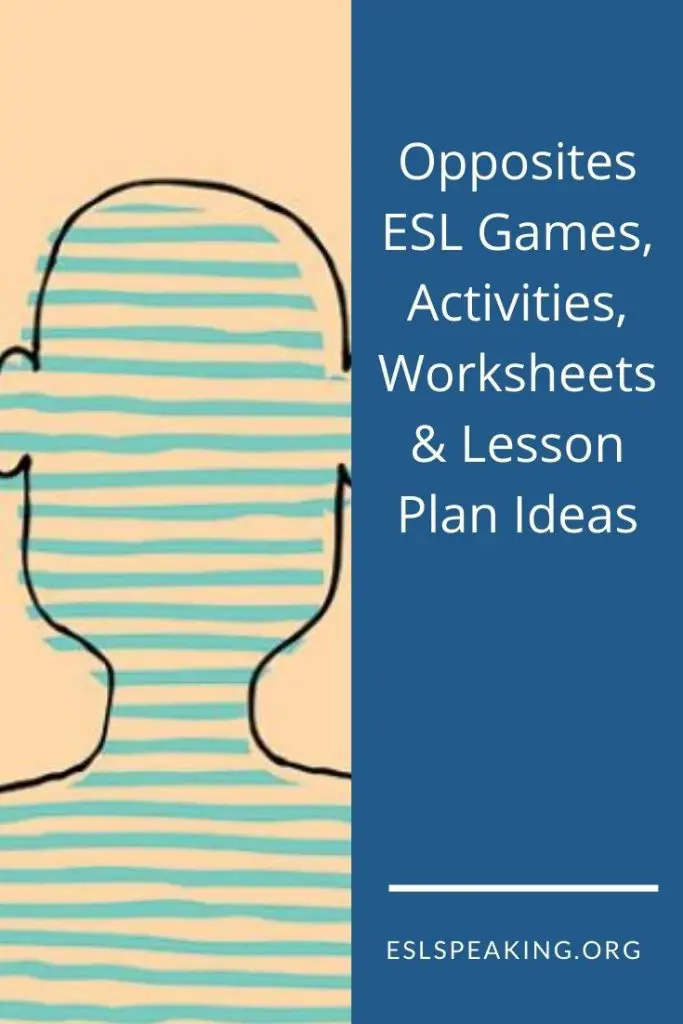 ESL Opposite Games and Activities
Let's get into the best opposites ESL activities.
#1: ESL Concentration
This is a simple matching memory game that works very well with opposites. Make up some card sets that contain opposite words. For example:
fast/slow
hot/cold
black/white
up/down
I aim for about 16 cards total or 8 sets. Then, in small groups, students can mix them up and place them face down on a desk in an organized fashion. The first student has to choose two and if a match, keeps them. If not a match, ensure that all the other students have seen the cards and then place them back in the same spot. Continue until all the cards are gone.
#2: Opposites Board Game
In real life, I love to play board games. This is why I like to include them in my English classes too. The best part is that it's quite easy to design a board game to fit just about any grammatical point or vocabulary set, including opposites.
In this case, I usually put a small picture into the square that clearly shows one half of an opposite word that we've talked about in class. For example, an arrow pointing up. The student would have to say, "down" when landing on that square in order to stay there. Learn more about making your own board games here:
#3: TEFL Basketball Challenge
If you're looking for the ultimate vocabulary game for kids, this basketball challenge may just be it! Try it out and I'm sure your students will love it as much as mine do.
The major requirement for this game is that you have a large classroom, or access to a gym of some kind because it does require quite a bit of space. Want to find out more? Have a look here:
#4: Guess the Opposites Quiz
#5: Typhoon
Try out this game if you want to have a fun vocabulary lesson! It's ideal for reviewing just about anything, including opposites. I often use this before a test of some kind in my classes. Check it out here:
#6: Picture Prompt Opposite Activity
It's often the case that students already know a good number of opposite vocabulary words before you teach them unless they are absolute beginners. If I suspect that this is the situation, I'll use this warmer activity to help students activate their prior knowledge. This makes new vocabulary more memorable.
Find a picture that lends itself to lots of opposites. For example, a race where people are going fast or slow. Or, two people but one person is hot and the other is cold. Then, elicit these words from the students. It's simple but effective. Learn more about it:
#7: Prepositions of Place and Opposites
There are a number of prepositions of place that lend themselves very well to a unit on opposites. For example:
behind/in front of
under/over
to/from
near/far
The good news is that there are lots of fun activities to do for this unit. Find out some of the best ones here:
ESL Prepositions of Place Activities and Games.
#8: The Opposite Game
#9: ESL Comparatives and Superlatives
These adjectives are a natural fit when talking about opposites. For example:
Tom is warmer than Jerry./Jerry is cooler than Tom.
Sidney is taller than Kerry./Kerry is shorter than Sidney.
There are lots of student-centred, interactive activities to do related to comparative adjectives. Find out some of my favourites ones here:
ESL Comparatives and Superlatives.
#10: Running Dictation
This is one of my favourite TEFL activities because it's student-centered, exciting and also covers all four skills in a single activity. It also lends itself well to opposites.
Find, or write some sentences that involve pairs of opposite words. For example:
Tom is hot.
Betty is sitting down.
Jerry is cold.
Tony is standing up.
Students have to work together to correctly dictate the sentences. Then, once they're done that, they have to match the opposites. In this example, 1 + 3, and 2+4 are a match.
Find out more about this fun game:
How to Play Running Dictation.
#11: ESL Opposite Taboo
I'm sure you know this party game where you have to describe a word but can't use a set of related words. I've adapted it a little bit for my English learners where they have to describe a word but don't have any restrictions other than that.
It's a nice activity for opposites because students can say, "Opposite of ____." Try it out:
#12: Puzzle Finder
This is a nice game for absolute beginners who are just starting to learn some basic vocabulary. For example: up/down, black/white, etc.
Write opposites on matching puzzle pieces and then distribute them to the students. They have to circulate around the class to find their matches. Learn more:
#13: Opposites Song for Kids
#14: ESL Whiteboard Games and Activities
I'm not sure what it is but students love to write on the whiteboard! That's why I like to include some of these kinds of games in my classes. For opposites, there are a number of possiblities.
However, one very simple one for beginners would be to make two (or more) teams. They have to line up behind one person at the whiteboard who is holding a marker. The teacher says a word (hot) and the students have to write down the opposite (cold). The first person to complete this correctly gets a point for their team. Continue until everyone has had a few chances to play. Find out more:
Fun ESL Whiteboard Activities.
#15: Opposites Bingo
This is a simple way for beginners to practice opposites. Write a number of opposite words on a PowerPoint (or elicit pairs from the students. Then, students have to make a Bingo grid and fill in whatever words they'd like.
When playing the game, if you say, "hot," students have to cross off the opposite (cold).
ESL Opposites Worksheets
Here are some of the best options for Opposites ESL worksheets:
Opposite ESL Lesson Plans
If you're a teacher, then you already know how much time it can save to use lesson plans that others have already created. Here are some of the top picks for ESL opposites lessons:
Did you like these ESL Opposites Activities?
Yes? Then you're going to want to check out this book on Amazon: 39 ESL Activities for Kids. The key to better English classes for all ages is a wide variety of interesting, engaging and student-centred TEFL activities and this book will help you get there in style.
You can find the book in both digital and print formats. Keep a copy on the bookshelf in your office to use as a handy reference guide when doing lesson planning. Of, take the e-version with you for some lesson plans on the go.
Whatever the case, get ready to level up your vocabulary teaching! Find out more about the book here:

Have your Say about Opposite Games
Do you have any go-to TEFL games or activities for teaching opposites to English learners? Leave a comment below and let us know what you think about it. We'd love to hear from you.
Also be sure to give this article a share on Twitter, Pinterest, or Facebook. It'll help busy English teachers find this useful lesson planning resource.
Last update on 2022-04-17 / Affiliate links / Images from Amazon Product Advertising API