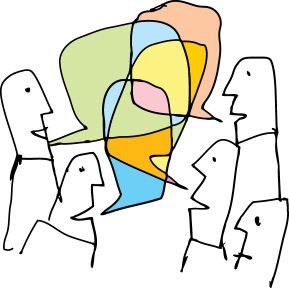 ESL Conversation Activities
If you want to make your English conversation class as interesting, engaging and fun as possible for the students, you'll need these top 5 ESL conversation activities for adults. They're guaranteed to get your students speaking English in the most painless way possible! They range from warm-ups, to fun games to complete ESL lesson plans.
Check out these conversation activities below. Clicking on the title will take you to the article with all the information. How to set it up, resources needed, etc.
Small talk is an important, but often overlooked skill. Get students practicing it while having fun with this game. I like this ESL activity because there's an element of competition to it that keeps things interesting.
This is another small talk conversation activity for adults that gets student mingling and mixing. It's great at replicating real life. Students will be having conversations just like they would at a cocktail party. Give your students confidence that they can venture out into the real world and use English!
I'm so, so weary of the hobby unit because I've taught it so many times. Here's an interesting activity I do that gets my students engaged, asking follow-up questions and talking together. Student centered language teaching at its best!
I like this activity as well because you can use it with pairs, or groups of 3-5. It's flexible and can be adapted to most levels, ages and class sizes.
I often plan my own conversation class lesson plans based around a topic that is in the news. Here are 6 sample conversation lesson plans to check out and see how I do it. They are mostly for students based in Korea, so you'll have to adapt them for your own students. Even if you don't teach in Korea, check them out and you'll be able to see how to plan an ESL speaking lesson.
This ESL warm-up game is an excellent way to get students moving around the class and getting to know each other. You can use it as the beginning of the semester or later on for an energizer if the students are low energy.
Students walking around, having fun while speaking English with lots of different partners? Love it! I'm sure you will too. These are usually the best kind of ESL conversation activities.
Like these ESL conversation activities for adults?
If you found these ESL conversation activities useful, then you'll need to check out this book: 39 No-Prep/Low-Prep ESL Speaking Activities: For Teenagers and Adults.
There are almost 40 ESL activities that require very little in the way of preparation. Plan your ESL speaking classes in no time, with a wide array of fun and interesting activities.
The book is available in both digital and print formats. The (very cheap!) digital one can be read on any device. You just have to download the free Kindle reading app. Top-quality ESL activities to have at your fingertips anywhere you go? Love it!
Check out the book on Amazon today: