If you want to have a bit of fun with your students, then considering using, "Draw a Picture" ESL speaking and listening activity. It makes an excellent warm-up at the beginning of a class. This listening drawing activity is also ideal for practicing descriptive words and numbers with beginners.
I've used this listen and draw activity with kids, teenagers, university students and adults and have had great results with all of them. And the best part? Very minimal materials and preparation are required for this ESOL draw a picture game. If that's not some ESL teaching awesome, then I'm not sure what is!
Keep on reading for all the details you need to know about this listen and draw activity.
How to Do this Draw a Picture Activity
Skills: Speaking/Listening
Time: 10 minutes
Level: Beginner-Advanced
Materials Required: Blank Paper, plus the picture that students will be drawing.
Age: Kids, Teenagers or Adults
Drawing a picture is a fun way to practice body parts or descriptive words (big, small, long, etc). It's also ideal for working on ESL prepositions. The students sit back to back and one person is the "talker" and the other one is the "drawer." If you haven't already guessed, it's basically a partner drawing activity.
The person talking describes something that they're looking at to their partner (a face, body, city, etc) and that person draws what they hear. Make sure that the student who is drawing doesn't look at the original picture of this warm-up activity isn't as fun.
The results from Draw a Picture are usually hilarious and I like to show a few of the best results to the class! It's perfect for a quick warm-up game, or time-filler, and I find that it lends itself particularly well to the unit about describing people's appearance that you can often find in beginner level textbooks.
You know what else I love about this listening drawing activity? It requires very little in the way of preparation or materials. Just a paper and pencil for the students, and a fun picture to draw from the teacher. It's nice to have a few of these activities in your back pocket in case of last minute class or something similar.
Procedure for this Listen and Draw Activity
1. Two students sit back to back but close enough to talk to each other.
2. Give student A a picture of some kind, based on whatever you are studying. I usually put something up on the PowerPoint and have the drawer sit with their back towards the screen.
3. Student A describes the picture to student B who must draw it, without looking at the original picture. Student B can ask some questions to student A to clarify if necessary.
4. Compare the original picture with the drawing and laugh a lot!
Teaching Tips for this Partner Drawing Activity
Here are a few things to keep in mind if you want this speaking and listening activity to run smoothly.
Remember that students are sitting back to back. This means that they'll have to speak a bit more loudly to be able to hear each other. Because of this, I recommend only using it for smaller classes, or with larger classes when students are able to spread out over a large classroom.
Emphasize that the game isn't fun if students cheat and look while they're doing it! Wait until the end to reveal the results. I mention that it's not a competition and mostly just for fun. Plus, speaking a little bit of English of course.
It's often better to not draw someone in the classroom. This can very easily end up with some hurt feelings, particularly with teenagers or children so be careful with it. Adults can get hurt feelings too, so just avoid this! I generally choose an alien, cartoon character, monster, or something similar as the fun picture to draw.
Did you Like this ESL Speaking Drawing Activity?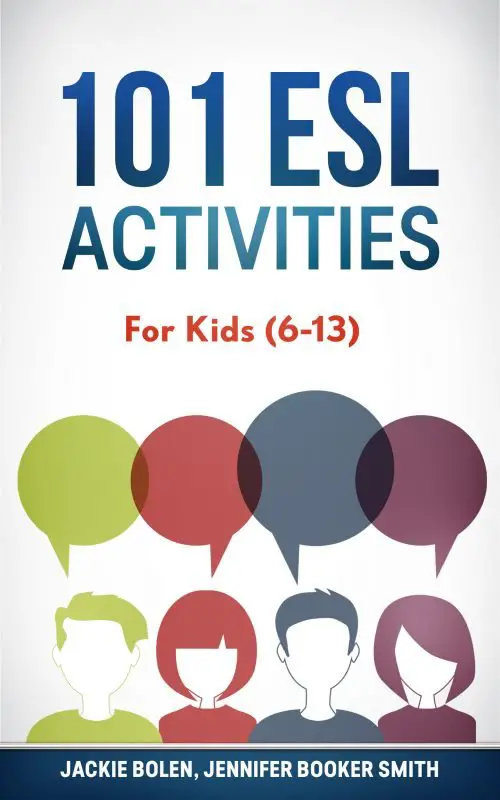 Yes? Thought so. Who doesn't need more drawing warm-up activities, right? Then the book you'll need to check out is 101 ESL Activities for Kids (6-13) over on Amazon.
Tons of Top-Notch ESL Activities
If you liked this partner drawing activity, then you're going to love the rest of them.
You'll have dozens of top-quality lesson plan ideas at your fingertips. It really is that easy to make your classes better.
Use a Variety of Activities in your Classes
The key to happy, engaged students who are learning lots of English is a variety of interesting activities. This book will help you do just that.
Easy to Find what You're Looking For
It's well-organized into various sections: reading, writing, listening, speaking, warm-ups/icebreakers, 4-skills, grammar, etc.
So, you should be able to find what you need in under a minute. It's lesson planning made easier, guaranteed. If it's not, get in touch and I'll refund your money. It also is that easy.
Available in a Variety of Formats
101 ESL Activities is available on Amazon in both print and digital formats. Keep a copy on the bookshelf in your office as a handy reference tool.
Or, take the e-version with you to your favourite lesson planning coffee shop on your phone or Tablet. Yes, it really is that easy to have fun, creative English classes with engaged students who are learning a ton of English.
Get your Copy Today
Sounds like exactly what you need to help you plan for your ESL or EFL classes? Check it out for yourself over on Amazon, but only if you want some ESL awesome in your life:
—>101 ESL Activities for Kids<—
Listen and Draw Activities: Join the Conversation
Do you have a fun ESL warm-up activity that you like to use in your classes? What do you think about one of my favourite listen and drawing activities for ESL students?
Leave a comment below and let us know what you think about it. We'd love to hear from you related to listen and draw activities.
Also be sure to give this article a share on Twitter, Facebook, or Pinterest. It'll help other teachers, like yourself find this useful teaching resource.