If you're looking to get your English classes started off in style, then keep on reading for my favourite ESL warmers, including games and activities. They're the perfect thing to do before jumping into the heart of the lesson. Help get your students ready to learn with these ESL warm-up activities and games!
ESL Warm-Up Activities
ESL Warm-up activities are an excellent way to begin class because they ease students back into using English again. In many cases, the last time students thought about or spoke English was in your class last week! That's where warm ups ESL come in.
Here are some of my favourite ESL warm-up activities that I use in my own classes. Let's get to the best warm up classroom activities that you'll want to check out.

Warm-Up Activity #1: Just a Minute
Just a Minute is a very simple activity that you can use to get your students talking. Write a bunch of general categories on the board such as jobs (more ideas here: Jobs ESL Activities), hobbies, dreams, movies, food, etc.
Put the students into groups of 4 and they can number themselves 1-2-3-4. Then, ask one of the students can stand up and throw a paper airplane at the board and whatever word it gets closest to is the topic for the first student.
All the number ones must talk about that topic for one minute without stopping and if they stop or have a long pause, they've lost the challenge.
You can adjust the time limit to be higher or lower depending on the level of students (beginner = 30 seconds, advanced = 2 minutes). Erase the first speaking round word from the board and continue the activity with the remaining three students except that they have different topics.
For higher-level students, you can require each group member to ask the speaker a follow-up question at the end of each round.
Check out this short YouTube video for all the details about this popular ESL Warm-Up:
#2: 5-Minute Debate
Try out one of the best warm up activities for adults. Give students a controversial statement such as something that's been in the news recently. However, because it's just a quick warm-up, don't have them read the whole article. 
In pairs or small groups, have them debate the sides. You may have to assign sides if too many agree or disagree with the premise. You may also need to scaffold with language like, "I think _____, because _____." "I agree with X, but _____."
Keep your students' personalities in mind. There are many books of conversation topics that really are quite controversial, such as abortion or the death penalty. You want them to practice speaking English, not get in a real fight.
In my early teaching days, I had some very heated classes, before I realized "controversial" could be anything people are likely to have a variety of opinions about, but unlikely to have no opinion. Finish up with a quick poll to see if anyone changed their mind about the topic. Try out this fun warm up ESL.
This is one of the best 5 minute warm-up classroom activities. Here are some topic ideas:
#3: Name 5 Things Vocabulary Quiz
This is one of my favourite ESL warmup activities for kids.
#4: Proofreading/Editing
This is one of my favourite ESL warmup activities that focused on writing.
To keep proper grammar usage fresh in your students' minds, they should practice frequently. This doesn't need to be a full grammar lesson; a quick warm-up can do the trick. You can give your students a variety of errors to correct: word choice, word order, punctuation, capitalization, etc.
Students should write sentences or passages correctly. Begin this activity by asking students a few review questions about whatever rules they are practicing. ("When do you use capital letters?" or "What is a run-on sentence? How can you fix it?").
It's a very good way to reinforce basic writing concepts. You can also have students work together in pairs to complete this activity, which works particularly well if they're beginners.
More details about this warm-up activity here:
Proofreading + Editing ESL Warm-Up
ESL Warm-Up Activities #5: The Alphabet Game
This is a simple way to introduce a topic. For example, jobs, cities, animals, etc. Have pairs of students write down A—>Z on one piece of paper. Give them 2-4 minutes to think of one word/letter that fits that certain category. 
Some examples of categories that work quite well include:
Classroom vocabulary
Sports (more ideas: ESL Sport Lessons)
Jobs
Food or drinks
Animals
I make a rule that they can't use proper nouns. If you want to increase the difficulty and if you have a small class, you can make a rule that if 2 teams have the same word, it doesn't count which forces students to think more creatively.
Example: Topic = animals
Alligator

Bat

Cat
This is a great way to reinforce the alphabet and sounds with very young, beginner students.
If you want to add another layer of challenge for smaller classes, make a rule that they don't get a point if another team or person has the same answer. This will force your students to guess what other people will write and get creative.
This activity is certainly one of my favourite category games so be sure to check it out.
#6: Boggle
You've probably played the word game Boggle before. You have to shake up the letters and then you have a certain amount of time to make some words with connecting letters.
You can also play it with your students but you don't need the actual Boggle game. Simply make up a grid on the whiteboard, PowerPoint, or on a piece of paper. I make a 6×6 one and put some obvious words in like colors or animals.
Then, students go in pairs and have to make as many words as possible that are 4+ letters. You can give a bonus for longer words if you like. At the end, students count up how many points they have, you can double-check for any errors and then award a small prize to the winning team.
For example:
| | | | | | |
| --- | --- | --- | --- | --- | --- |
| o | r | p | t | s | a |
| e | a | i | e | t | f |
| b | k | n | e | r | i |
| a | d | r | g | o | r |
| c | o | t | l | s | e |
| k | f | h | m | a | n |
Some possible words from this board:
green, pink, rake, back, fire, fires, fast, road, rose
***If you have small classes, consider investing in a Boggle game. Here's a Super-Big Boggle Game on Amazon.
Quick Tip: Depending on where the students sit in your class, it may be difficult to see the board well enough for this activity. So, I usually allow students to change seats if they have to.
ESL Warm Up Activity #7: Free-Writing Time
If you teach a writing class, an excellent way to start it off is to have free-writing time. Students can use a dedicated notebook for the task. Have a topic of the day—some examples are:
"My favorite memory from childhood was _____."
"If I could change one thing about my life, I'd change _____."
"The best thing about my family is ______. The worst thing about my family is _____." (more ideas here: ESL Family tree)
"When I get home from school, I like to _____."
Give students a set amount of time to write—5 minutes for intermediate level students and 10 minutes for more advanced.
Encourage them to write quickly in order to practice writing fluency. Put away those erasers and dictionaries! If you do this over the course of an entire semester, you can give students a simple chart to keep track of their writing speed-hopefully it increases!
Teachers can also participate in this (I did all the time!)
Check out more details here about one of the best warm up activities for adults:
English Writing Practice-Focus on Fluency
#8: Picture Prompt
This is a very simple warm-up for ESL that can be used with kids, teens or adults. The way it works is that you put up a picture on the screen. Depending on the level of students, there are a number of things you can do.
Beginners can simply list the things they see in the picture: dog, man, tree, house, etc. You can also ask something like, "How does the man feel? What is the boy doing?" Or, it can be a simple number activity if you ask how many of a certain thing.
Intermediate students could do a similar thing but make sentences. For example, "The man is playing with the dog. The boy is coming out of the house and I think he's going to school."
Advanced students could make up a story based on what they see. Or, give an explanation for what's happening.
Learn more here: Picture Prompt ESL Warmer.
ESL Warmer #9: Would you Rather?
This is a fun, simple warm-up idea for your English class that requires no preparation or materials, just a bit of creativity. But, you can get the students to help you make them up too.
You can start with a question. For example, "Would you rather be able to fly, or breathe underwater?" Then you can have students discuss the question with a group of 3-4 students for a larger class, or with the entire class for a small class.
You can also play this as a circle game, where one student has to answer a question and then think of a different one to ask the next student.
Find out more about it here: Would You Rather ESL Warm-Up Game. Try out this funny warm-up activity for all ages!
#10: 120-90-60 Speaking Activity
#11: Concentration 
Another 5-minute warm-up classroom activity is this concentration memory game. It's a great way to help students pay attention to some of the new terms and definitions that you've taught them in your class.
Combine this with the fact that it's fun, challenging and super easy to explain and it makes this one of the top ESL warm-up activities that I can tell you about!
Just about the only negative is that you have to make the cards that students will use for matching. However, it can be worthwhile if you teach the same class multiple times in a single semester, or you use the same textbook from year to year.
A quick tip: Consider laminating the cards to make them more durable, particularly if you teach children.
Learn more about it here: Concentration 5 Minute Warm-Up Game.
#12: Famous People at a Party
Are you looking for a quick and easy ESL warm-up activity to try out in your classes? Then you'll need to consider trying out this one about famous people that you'd invite to a party.
Keep on reading to find out more about this activity that's perfect for that "famous people" unit that is in most beginner-intermediate ESL textbooks.
An ESL Warm-Up: Famous People at a Party
Skills: Speaking/listening
Time: 5-15 minutes
Level: Intermediate to Advanced
Materials Required: Nothing
This is an excellent ESL speaking warm-up activity for intermediate to higher levels. Put the students in small groups of 3-4 people. Have them pick four famous people, dead or alive that they'd like to invite to a party they are having. Then, they have to say the reason why they're inviting them. I do an example like this:
Person: Michael Jackson
Reason? He can play some dance music and entertain us. Also, I want to know why he got so much plastic surgery.
Person: Donald Trump
Reason? I seem him saying outrageous things on media all the time. Is he like that in real life too?
Give your students a few minutes, depending on the level. Then, I get the student to pick 1-2 of the people from their group, depending on the size of the class and tell the rest of the class their answer. I've gotten an interesting array of answers and the students are always quite interested to hear what the other groups have to say.
As you can see, it's easy to adapt this activity to any level. Beginners can simply state who they'd invite and then give a simple explanation of why.
More advanced students can have a small group discussion about it and perhaps think of things they'd like to talk to that famous person about. This makes it one of the best ESL warm-up activities for beginners or advanced level students. It's super easy to adapt to whatever level that you're teaching.
Procedure for this ESL Warm-Up Activity
Put students in groups of 3-4.
Each group picks four famous dead people that they'd like to have at their party.
They must also think about why they'd like to invite him or her.
Have the groups share their answers with the class.
#13: Conversation Starters
If you ask your students what they want to do in your speaking or conversation class, many of them will say free-talking. However, it's not easy for lower-level students to do this and the conversations will often die after a minute or two.
The best way to avoid this is to use conversation starters, which also make an ideal warmup activity. You can find out more about one of the best warm up activities for adults right here: ESL Conversation Starters.
#14: Ideas for the First Day of Class
#15: Hot Potato
Hot potato is a super versatile activity that can be used for any grammar or vocabulary you might be teaching and is one of my favourite ESL warm-up activities. It also makes a nice warmer activity to review material covered in previous classes.
The way it works is that students have to pass around a "potato" of some kind. Then, when the timer goes off, the person left holding the object has to do something. In this case, they may have to answers a question that you have, make a sentence with a certain word, or think of a question to ask another student.
Find out more about one of the top ESL warmups here: Hot Potato ESL Activity.
#16: A-Z Game
#17: Flashcard Sentences
Flashcards are one of those teaching resources that are vastly underutilized by most teachers. You can use them for a quick review of the material covered in previous lessons. There are a number of activities you can do with them, so be sure to check out this article for all of them:
Using Flashcards with English Learners.
#18: Teach Young Children? Consider Using a Routine
If you teach very young learners, then you'll want to start off each class the same way. Kids thrive when they know what to expect and it's a very useful way to review things like English weather, numbers, time, days of the week, colours, feelings and emotions, etc. Find out more about how to use them here:
Using Routines when Teaching Young Children.
#19: Twenty Questions
#20 ESL Warm-Up Activities: Show + Tell
If you're organized, this can be a nice warmer activity that you can use throughout the year. Assign each student a day and when it's their turn, they have to bring in something or theirs (or a picture) and then talk about it for 1-2 minutes. The students in the class can ask some follow-up questions.
It's a fun way to bring real life into the classroom!
#21: Words in Words
Think of a big, long word like dictionary, September, or elephant. Then, put students into pairs and have them try to make as many words as possible.
It's a simple, quick warmer or time-filler that works for just about any level of students. Try it out today!
#22: Dictogloss
#23: Mixed up Sentences English Warm Up
In this quick ESL warm-up activity, write some sentences on the board or PowerPoint with the word order all mixed up. Then, students have to work together in pairs or individually to make correct sentences. Of course, throw in some negative forms so that it's not too easy for your students!
#24: Odd One Out
I like to use Odd One Out for beginners who are just learning about categories or things. For example, fruits and vegetables or animals. The way it works is that you write groups of four words and one of them doesn't match:
apple, orange, carrot, banana
t-shirt, pants, gloves, hat
In the first case, students may choose carrot because it's not a fruit. And in the second, pants because you wear them on the lower half of the body, not the upper.
Of course, I'll take many possible answers as long as students are able to say why.
#25: Prepositions of Place Memory Game
Try out this simple warm-up activity with your students:
#26 ESL Warm-Up Activities: What Do You Know About _____?
Put students into pairs and give them five minutes to write down true facts about some common objects. For example, a pencil. Here are some of the sentences that they might write:
Pencils are made of wood and graphite.
I can use a pencil to write.
Pencils can be sharpened.
You can buy a mechanical pencil too.
The team with the most true statements at the end of the allotted time is the winner. A quick tip: Don't allow negative sentences!
#27: What Can You Do With a _____?
In this quick ESL warm up activity, students have to think of all the uses, even unconventional ones for a common object like a banana. For example:
Eat it
Use as a paperweight
Increase potassium levels in your blood
Pincushion when sewing
Etc.
The more creative the better!
#28: Word Association Warmer Activity
Unless students are absolute beginners, it's often the case that they know a good bit of vocabulary for whatever unit you're teaching. In this case, it's ideal to help students activate their prior knowledge before adding new words into the mix. Have a look at one of my favourite ways to do that:
#29: Chain Spelling English Warm Up
A fun but quick warmer activity that's ideal for reviewing key vocabulary is chain spelling. It's basically a "last person standing" kind of game where students have to take turns spelling words out, one letter by one letter. Do you want to give it a try? Find out more details here about this warm up ESL:
#30: Even More Ideas for ESL Warmers on Let's Talk TEFL
#31: 5 Senses ESL Warmer
Try out this fun warmer activity if you want to help your students work on descriptive adjectives. Bring in an object like a cucumber and then have them think of words about that describe that object which falls under the 5 senses.
This is a versatile activity that can be done through speaking or writing, alone or in groups. Check it out:
#32: TEFL Movies and TV Shows
Using a movie or TV clip is one of my favourite warm up activities for teaching English. There are just so many activities and games you can do with them! Plus, you can find a clip that leads into just about anything, whether vocabulary or grammar. Check out some of my ideas here:
#33: I'm Going on a Picnic ESL Warm-Up
Try out this simple game with your students! It's fun, interactive and requires nothing in the way of preparation or materials.
#34: More Ideas for TEFL Warmers
Try out some of these funny warm up activities and games.
#35: Drilling Games and Activities
A nice way to review just about any grammar, vocabulary or pronunciation is with a drill. They're a nice way to start off a class. Have a look here for some of the best ideas:
#36: Fun Would You Rather Questions
#37: Quick Draw
Give students a simple word or phrase, and they have a short time (e.g., 30 seconds) to draw it. Others guess what it is.
#38: Mystery Bag
Place various items in a bag. Students take turns reaching in, describing what they feel (without looking), and guessing what the item is.
#39: Song Lyrics Gap Fill
Play a popular song, and give students a worksheet with missing words from the lyrics. They listen and fill in the gaps.
ESL Warm-Up FAQs
There are a number of important things that people want to know about using an ESL warm-up activity or just about how to begin their classes in general. Here are the answers to some of the most popular ones.
What is Warm Up in Teaching?
A warm up in teaching (also known as a warmer) is an activity at the beginning of class that's designed to warm up the learners. For example, students may have to talk with a partner about a certain topic, review something from the previous class or watch a short video and talk about it.
What is a Warm-Up Activity?
A warm-up activity is the best way to start off an English class. It's beneficial for the students to warm up their muscles (brains) before jumping into the heart of a lesson. Teachers can also allow for some buffer time for late-arriving students and a minute or two to ease into the class.
How do Students Warm Up?
There are a number of different ESL warm-up activities that you may want to try out. Seriously, the sky is the limit and you can do just about anything from chatting, watching a quick video, reviewing, a game, etc.
Why Use ESL Warm-Up Activities?
There are a number of reasons why you might consider using an ESL warm-up game in your classes. Here are a few of the most important ones:
They can activate students' prior knowledge about a topic, grammar point or vocabulary set.
They can engage the learners from the start of the lesson and help them learn English
Warmups can help to ease students in learning English. If you just right into the heart of the lesson, the important things can be missed
ESL warmups are an ideal way to review material from previous classes
They help to build rapport between students and teachers
Depending on what you do, they can be quite enjoyable and fun for the students
Fun, engaging classes—warmups may be part of the answer. Most teachers find that they work so try them out for yourself today!
What are warmup questions?
Warmup questions are ones that are designed to get people talking to each other. They're also ideal for introducing a topic or setting the context in a language class or for easing students into using the target language before jumping into the heart of a lesson.
How can I make warm-up questions?
In a language class, it's best to base warm-up questions on whatever the topic of the day is. Ideally, the warm-up questions will lead into the main topic and help to set the context for further activities such as a reading or listening passage.
What's a fun TEFL warm-up Activity?
Check out this simple online quiz for a fun TEFL warm-up activity:
What are Some Tips for Beginning Conversation Classes?
Over the years, I've kind of struggled with how to begin a conversation class. Not the very first class, but all the other ones after that.
If you're in the same boat, keep on reading. I'll share my top tips with you about how to begin your English classes in style.
I know everyone has their own way to start a conversation class but here's what I do. I try to arrive at least 10 minutes early so I don't have to do all this stuff while students are attentively watching and waiting for me! A requirement I have is that students talk to me after class, instead of before because I have more time to help them.
When you rush in at the last minute to your ESL class, your computer is bound to break, or you'll notice that your board marker is out of ink! Murphy's Law. Avoid this stress by giving yourself a few minutes to get everything together.
#1: The ESL Classroom Environment
I walk into the class, adjust the temperature, desks and podium to my liking. I'll turn on the computer and projector if using it for that class. A few random hellos as students walk in. Remember: You are the teacher and it's up to you to make a comfortable learning environment. Something like opening the blinds to allow a little natural light can really make a big difference.
#2: Prepare my Materials for ESL Class
I take my stuff out of my bag and set out all the materials I'll need for that class. There is nothing worse than having attention and then losing it due to poor preparation and having to search in your bag for things.
#3: The Day's Agenda
I write up the day's agenda on the board or load up the PPT that has it on the first page. I'll also write the first 1 or 2 things that we'll be doing on the board, so I don't waste time doing this later. By this time, there is usually about 1 or 2 minutes until class starts, so I'll walk around doing attendance.
#4: General Chit-Chat or Some ESL Warm-Up Activities
I'll start with a good afternoon/morning and then some general chit-chat for a couple of minutes. I'll avoid this with the really quiet classes because dead silence is never a good start to a class, but it's actually quite fun with the better ones.
However, I generally like to begin with a warm-up activity instead. I don't love small talk, over and over again, multiple times a day.
I do like ESL warm-up activities or games that help to introduce a new topic or review an old one. Any of these ones I've mentioned from this list would work well.
Like these ESL Warm-Up Activities?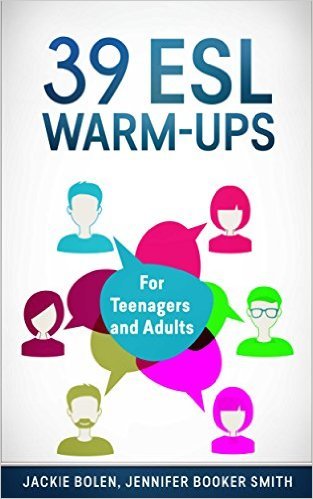 Jumping right into the lesson without a quick warm-up can be tough going. Try out an ESL warm-up or icebreaker and you'll notice a big difference. By the time you get to the main heart of the lesson, students will be settled and ready to learn.
Don't believe me? Try it out for a couple of weeks and I think you'll notice the difference! Your students will be happier and we're sure you will be too.
Ease Students into English
Many of your students will not have spoken English or even given it a single thought since you last saw them. By beginning your lesson with a warm-up activity, you are doing a number of things. First of all, you are easing them back into using English. Next, you are orienting them to the upcoming lesson. Finally, you are focusing them on the work ahead. All of these things can pay off big-time in terms of a better learning experience.
ESL warm-ups really are a valuable use of class time, but it can be difficult to come up with new games and activities for each class to keep things fresh and interesting for your students.
Tired of Wasting your Time?
And maybe you're like me and are tired of searching around on the Internet for fun, engaging and interesting ESL warm-ups that your students will enjoy. I wasted so much time that I eventually decided to write a book that would help out my fellow teachers.
Awesome Teaching Tips
Don't forget the teaching tips too. They'll help you avoid the most common mistakes. If there's a mistake that has been made with one of these activities, we've most certainly done it. And our goal, of course, is to help you avoid it!
This way, you can have as awesome of an English class as possible. Yes, it really is this easy to have better English classes!
Seriously. Try an experiment and start with an ESL warm-up. Our guess is that you'll notice the rest of your class goes that much more smoothly.
ESL Teaching Awesome, Coming Your Way
Jackie Bolen and Jennifer Booker Smith have 20+ years of experience in the ESL classroom.  They've joined forces to bring you their 39 favourite ESL warm-ups for teenagers and adults that will get your students energized, active and engaged, right from the start of class.
Click below to get your copy now:

Have your say about these ESL Warm-Up Activities for Adults and Kids
Do you have one or two go-to warmers for your ESL or EFL classes? Leave a comment below and let us know what you think.
Finally, be sure to share this on Facebook, Twitter, or Pinterest and give us a follow. It'll help other busy teachers, like yourself, find a fun ESL warm-up activity that they can use in their classes.
Also, check out the articles on this blog. You'll find lots of useful resources that'll help you make your classes as awesome as possible. And that's what we all want in the end, right?
Last update on 2023-09-30 / Affiliate links / Images from Amazon Product Advertising API