Do you need help with planning ESL lessons? Then you're certainly in the right place. Most teachers do, and unless you've taken a TEFL training course of some kind, you may not ever have know the correct way to go about making an ESL lesson plan.
But not to worry. Keep on reading for all the details you need to know making a lesson plan for adults or children quickly and easily. It's some ESL teaching awesome and you won't want to miss this!
ESL Lesson Planning Introduction
If you're looking for help with your ESL lesson plans, you've come to the right place. I know that many teachers first go abroad to teach English without any sort of training in teaching English. Employers, especially if you work at a private language institute are often no help.
They often say things like, "You speak English! Just go teach." Teachers are often left to their own devices when it comes to lesson planning. However, this doesn't mean that you shouldn't do it. The good news is that planning a decent ESL lesson really isn't so complicated.
Keep on reading for everything you need to know about ESL lesson planning.
ESL Lesson Plan Templates for Adults
Making an ESL lesson plan is really quite simple if you use these templates. You can use the basics and adapt them to your own purposes. Although these lesson plans are for adults, you can use the same principles as you plan your lessons for children.
I designed these lesson plan templates using the knowledge I gained while taking the CELTA and DELTA courses. Without further ado, here they are:
ESL Listening Lesson Plan Template
ESL Reading Lesson Plan Template
Speaking ESL Lesson Plan Template– This lesson plan is actually a grammar or vocabulary focused class disguised as a speaking one. "Speaking" alone isn't really a great lesson objective. You should also include something more substantial such as a specific grammar point or some new vocabulary.
ESL Grammar Lesson Plan for Adults
How to Make an ESL Lesson Plan
Check out this short video below for all the details you need to know about planning an ESL lesson. It does take a bit of work to learn the correct format, but once you get the hang of it, it'll be quick and easy to make future ones.
Lesson Plans for ESL Teachers
Maybe you're kind of like me and have a lot going on and you don't like to spend a ton of time making lesson plans from scratch. I totally get it and often feel the same way. Check out these recommendations for the best lesson plans for ESL teachers:
Do you have any recommendations? Scroll down and leave a comment with your top picks.
What about Teaching English Online?
In many ways, teaching English online is quite a different experience from being in class with the students. However, there are plenty of interesting and engaging ESL activities and games that you can do to spice things up a little bit and keep it interesting for both and the student.
Do you need some news ideas for ESL online teaching? Then you'll want to check out the following resource for the top 20 ideas: Teaching English Online.
Enjoyed these ESL Lesson Plans?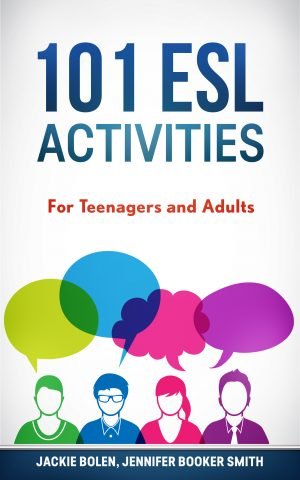 You've just checked out some of my top recommendations for ESL lesson plans for adults. And, you'll probably need some top-quality English activities and games to go along with them, right? The book you'll need to check out on Amazon is 101 ESL Activities: For Teenagers and Adults.
A Wide Variety of Engaging EL Activities
There are dozens of ESL activities to choose from. Mix things up a bit and keep your students on their toes. They'll have fun, be engaged, and best of all, learn lots of English!
Well-Organized into Various Sections
101 ESL Activities is well-organized into sections: reading, writing, speaking, warm-ups and icebreakers, grammar, 4-skills, etc. to make it easier than ever to plan your lessons. Just go to the section you're interested in, and you should be able to find what you need in just a minute or two.
Stop Wasting Time When Doing Lesson Plans
If you're tired of wasting your time searching around on the Internet for the game or activity you need, this is the book for you! It's only the good stuff, well-explained so you can get onto things other than lesson planning.
Available in a Variety of Formats
You can get it on Amazon in both print and digital formats. The e-version can easily be read on any device by downloading the free Kindle reading app. Keep a copy on the bookshelf in your office as a handy reference guide. Or, take a copy with you for lesson planning at your favourite coffee shop.
Shop Now
Want to get yourself some ESL awesome? Yes? Thought so! Learn more about this popular ESL activity and game book here:
—>101 ESL Activities on Amazon.com<—
Have your Say about ESL Lesson Planning
Do you have any go-to resources for how to plan an ESL lesson? Or, any sort of template that you like to use? Or, do you have a source of ready-made EFL lesson plans? Leave a comment below and let us know your tips and tricks. We'd love to hear from you.
Also be sure to give this article a share on Twitter, Facebook, or Pinterest. It'll help other teachers, like yourself find this useful English teaching resource.