Are you looking for some information about task-based teaching and learning? Then you're certainly in the right place. Keep on reading for all the details you need to know about task based learning.
Task Based Language Learning:The New Way
Task based language learning is kind of all the rage these days as part of the overall communicative approach. This focuses on having students being competent communicators as opposed to some of the older models like grammar translation or the audio-lingual method. If you're not familiar with task based language learning, here is a brief introduction to it.

Task based language learning can be an excellent choice for large classes. A class of 20+ students makes it impossible for students to get enough speaking time if it's a teacher-centred classroom.
Why I Love Task Based Language Learning
A Why
I personally love task-based activities because they give students a reason to do something as opposed to just using the language in a meaningless kind of way such as in a "repeat after me" activity. Students have to complete something, such as a presentation.
Learn what you want to Learn
The second reason I like task based activities is because they give students a chance to explore the language they want to know. Instead of me telling them what grammar and vocabulary they need to learn, students discover what they need to know during the process, figure it out (with some help from me sometimes), use it and then often remember it for the long-term because it was something they sought out for themselves.
2 Examples
For example, if I assign a presentation topic in my class, I'll usually make the topic choices quite vague. For example, any current event. That way, students are free to choose whatever interests them, instead of letting my own interests dictate their learning.
Or, for a persuasive essay that I assign for homework, I'll give students freedom to choose any topic they want. They only requirement is that they check in with me before starting so that they don't go down the wrong track and waste time on something that is either too basic, or too difficult.
How to Teach Speaking with Task-Based Learning
6 Basic Task Types
The idea is that there is a topic that the class is based upon and then various tasks surrounding that are created by the teacher. This is the list of tasks, from easiest to hardest. I'll use the topic of weather for my example.
Listing. Various kinds of weather conditions.
Ordering and sorting. Typical weather in spring/summer/fall/winter in a certain location.
Comparing. Weather in country A vs. weather in country B.
Matching. Weather condition pictures to the names.
Problem solving. Pick a vacation destination. When will you go and why? What special things do you need to bring?
Creative project. Research a natural disaster, make a poster about it and then do a presentation. Check out this Current Events Presentation I did with my students.
Even very low-level students can do task-based projects with numbers 1-4. These tasks might work well as a quick warm-up for your higher level students before you move into tasks 5-6.
Task Based Language Learning Example
Need More Ideas for your ESL Classroom?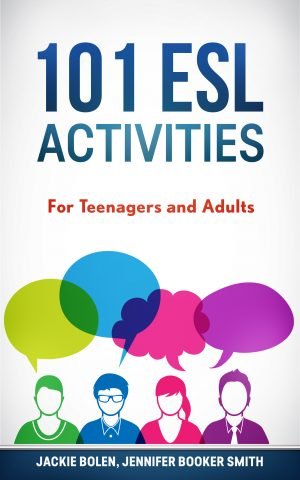 If you're looking for even more ideas for teaching English to adults, then you'll need to check out this book over on Amazon: 101 ESL Activities for Teenagers and Adults.
There are dozens of fun, interesting, and engaging activities and games that'll help make your classes better, guaranteed. If it doesn't, get it touch and I'll refund your money.
The best part? Your students will be learning English while having fun at the same time.
The book is well-organized into sections so it's very easy to use: speaking, listening, reading, writing, 4-skills, grammar, review, warm-ups/icebreakers, etc. Pick the section you need and you should be able to find an activity or game that'll work in under a minute.
You can get the book in both digital and print formats. Keep a copy on the bookshelf in your office and use it as a reference tool. Or, take a copy with you on your phone or tablet for lesson planning on the go.
Ready for some ESL awesome in your life? Check out the book for yourself on Amazon:
—>Get 101 ESL Activities: For Teenagers and Adults<—
Have your Say about Task-Based Language Teaching
What are your thoughts about task based learning and teaching? Leave a comment below and we'd love to hear what you have to say.
Also be sure to give this article a share on Twitter, Pinterest, or Facebook to help other teachers, like yourself find this useful teaching resource.