In almost every class, there are at least one or two students who are reluctant to participate in what's going on. This is especially the case in mandatory language classes like when you're teaching English in a Korean university. Per government regulation, there is a year of mandatory English classes, and needless to say, many students aren't that happy to be there!
How can you handle students who don't want to participate and speak? Is there a way you can plan lessons that avoid this common problem?
Keep on reading to find out all the details you need to know about encouraging students to participate in your English classes.!
A Student Refusing to Participate in Class
A problem that teachers sometimes have is a student that just straight-up refuses to participate in class. I've taught in Korean universities for many years and have certainly had my fair share of these students over the years.
I know that it can even be worse when you teach kids, particularly middle school students who have a lot going on, inside their own heads, with their bodies, and socially. It's tough!
"How can I get a student to participate if they refuse?"
Is it Because of Poor Language Skills?
Often, when students are refusing to participate in class, it's because their language skills are far below that of their classmates. I try to coax them into the lesson in a variety of ways. First, I work to create lessons which are levelled to a certain degree. So, the higher level students can get be challenged and the lower level ones won't be left in the dust.
This takes a bit of extra planning, and it doesn't always work, especially if the spread of student abilities is particularly broad. However, it works a lot better than teaching to the middle.
Try Group Work
Having students work in groups can increase participation, since the work can be shared. One student's knowledge gaps can be filled by a partner. Again, think about your groupings.
If one student barely knows the alphabet, he probably doesn't want to do a think-pair-share with the girl who just moved back from the UK. While many activities are well-suited to mixed levels, there is an element of student's pride at play.
Have a Talk with The Student
If the same student is refusing to participate in class over and over, talk to them. Find out how they are feeling. Get to know some of their interests and try to incorporate them into activities.
It can be difficult if you are teaching large classes and only see each group once or twice a week, but a little personal attention goes a long way.
Plan Engaging Lessons
I had some students at one school who were far below most of their classmates and just wanted to play games on their phones. So, I found a few PowerPoint games online which were modelled after some popular games. It helped get these students engaged in my classes.
Check out these lesson planning tips.
Put Yourself in Their Shoes
Anytime you are dealing with a difficult student, put yourself in their shoes and think about why they are acting a certain way. It probably isn't just to disrupt class. It's most likely because they feel shy about their English speaking ability!
I've certainly been there. I was in a Korea class that's too difficult for me. It wasn't that I didn't want to participate, it was that I was unable to do so.
Learn Names
A simple thing like learning grades can make a huge difference. This way, instead of feeling like one of a crowd, students feel like you actually care about them and know them. It can also certainly help out when you can call a student who is busy on their phone by name!
If you have a ton of students each semester and won't have a hope of remembering everyone, there is hope. I require that students have a name-tag on their desks (a piece of paper folded in a triangle). They can use their real name, an English name, or an appropriate nickname. I let them choose. But, I can see who they are at a glance and call on anyone in the class quickly and easily.
Ask for Feedback from your Students
On the midterm exam, I always ask two questions:
What's 1 thing you've liked about this class so far?
What's 1 thing you don't like.
I don't grade it, but just it as a bonus point simple for answering. I make it clear that as long as they fill in something they'll get one point.
Of course, there is a variety of answers, but if I see the same thing consistently from many students, I'll try to adapt the second half of the class to make it more in line with what they want. And things they like? I'll double down on them for sure!
Allow for Thinking Time and Be Patient
I once took a Korean class where the teacher would ask questions, but then allow me only half a second before cutting in and then answering them herself. Of course, i was very frustrated to say the least! I would have been able to answer, but since I was a beginner, it just took me a bit of time to be able to do this.
Don't do this to your students! If you ask a question, be patient and give students time to think and put together an answer. They usually can, given enough time.
Do you Give Grades? This Can Certainly Encourage Participation
If you have control over a student's final grade, like in a university course, then this is kind of like a dream come true. Although I personally don't like to grade participation in my classes because it favours the extroverts at the expense of the quieter introverts, some students use this with great success.
They evaluate things like the following:
Participation in games or activities
Help with classroom management (erasing the board, setting up the computer console, or taking attendance)
Volunteering to give an answer in class
Going above and beyond the minimum on an assignment or in class
Etc.
Help with Classroom Management
Students refusing to participate in class is just one of the many problems that you can have. That's why Jennifer Booker Smith and I wrote a book that will help you manage your classroom well and hopefully avoid these kinds of problems in the first place.
If you teach ESL to elementary schools students, this book is going to be pure gold for you and I'll even make a personal guarantee: If you read the book and don't end up with classes that are calmer, more productive, and less stressful, send me an email and I'll refund your money.
You can get ESL Classroom Management Tips and Tricks: For Teachers of Students Ages 6-12 on Amazon in both print and digital formats. It's going to make your elementary age classes better, guaranteed.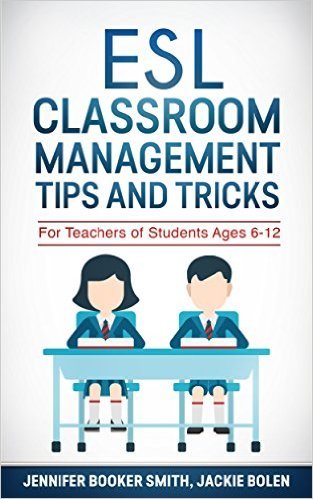 Have your Say about Encouraging Participation in your Classes!
How do you handle a student that doesn't want to participate in your classes? Any strategies or tactics that you've used with some good results? Leave a comment below and let us know your ideas for this. We'd love to hear from you.
Also be sure to give this article a share on Facebook, Pinterest, or Twitter. It'll help other busy teachers, like yourself find this useful teaching resource.
Last update on 2022-10-15 / Affiliate links / Images from Amazon Product Advertising API