If you do private, 1-1 language teaching, then you'll need to keep on reading. I'll share with you my top tips, tricks, games and activities for 1-1 English teaching to keep your students (and their parents!) happy and improving their English skills.
Private Teaching Activities and Games
Private teaching can sometimes be a little bit difficult because the activities and games you'd normally use with bigger classes often won't work when it's just you and a student. I know that I'd way rather teach a class of 30 than a private session with only one or two students!
However, I still occasionally do private teaching and I have a go-to repertoire of activities and games that I rely on. These are mostly appropriate for both children as well as adults with some adaptations.
I'll share a few of my favourite activities for 1-1 ESL teaching here. Are you ready for some ESL awesome? Then read on teachers!
English Central Videos for Private Teaching
I love to use videos to teach English, but it's sometimes not easy to find ones on YouTube that are the right level for your students. That's what makes English Central so great. The videos are grouped according to level and there are lots of features that make it really easy to use them in your lessons. Try them out in your private teaching lessons and I'm sure you'll find them useful.
More details about English Central here:
English Central Videos for 1-1 Teaching
Follow-Up Reading Activity
I will often assign reading of some kind for homework in my private tutoring sessions. Extensive reading is an excellent way to build vocabulary, reinforce grammar concepts as well as increase speaking fluency. However, it works best if you do a few quick follow-up activities in class together.
One of my favourite is this Story Timeline Review. It's excellent for kids as well as adults and easy to adjust depending on the level of your students.
Check out this follow-up ESL reading activity here:
Is that Sentence Correct?
Is that Sentence Correct is an excellent way to review some grammar or vocabulary concepts that you've introduced in previous classes to make sure your student has a good grasp on them. It's reasonably fun, or as fun as teaching grammar can be!
Check out this fun English grammar activity below:
Brochure Scanning: A Reading Activity for Private Teaching
It can get pretty boring just to read the standard stuff from the ESL textbooks. You know what I'm talking about I'm sure. There are the same old stories, again and again.
It's often better to use authentic material, especially for intermediate or advanced-level students. Brochure scanning is one way to introduce some authentic material into your private teaching sessions.
You can check out this 1-1 reading activity here:
Fortunately, Unfortunately Warm-Up Activity
Fortunately, Unfortunately is a fun warm-up for the beginning of your private tutoring class. You'll have lots of laughs and get the creative juices flowing. It's a great way to help ease your student into using English.
Check it out here:
Fortunately, Unfortunately ESL Warmer
Ideas for 1-1 English Teaching
Check out this short video below for even more tips and tricks:
Cosmo Quizzes for Private Teaching
If you're a woman and teach another woman of a similar age, you'll find that Cosmo quizzes can be really fun to do together. They're almost guaranteed to create some interesting discussion about a variety of issues, including whether or not quizzes like this have any validity, or are a total waste of time. There are some less taboo ones, so search around and you'll be able to find a suitable one.
More details here:
Cosmo Quizzes, A Fun Private Teaching Activity
Like These Private Teaching Activities and Games?
Then you'll love these two books. They each contain 39 ESL activities for private teaching lessons. They'll save you a ton of time when you're planning your lessons and there's enough material to keep things fresh and interesting for months of classes with the same student. Trust me. If you want to keep your lucrative private teaching gigs, these books will help you do just that.
You can get them on Amazon in both print and digital formats. The cheaper digital copies can be downloaded onto any device by getting the free Kindle reading app.
Check out the books today:
39 Awesome 1-1 ESL Activities: For Teenagers and Adults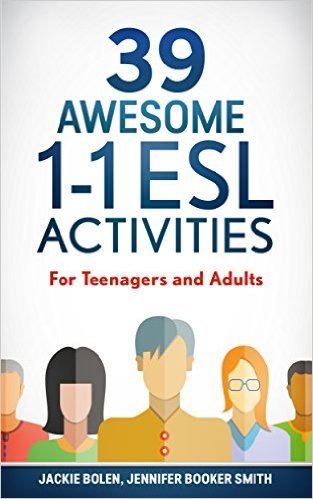 ---
39 Awesome 1-1 ESL Activities: For Kids (7-13)
Have your Say about these Activities for Private Language Teaching 
What's your go-to activity or two for when doing private English teaching? Do you have any tips for 1-1 ESL teaching? Leave a comment below and let us know what you think.
Also be sure to give this article a share on Facebook, Twitter, or Pinterest. It'll help other teachers, like yourself find this useful teaching resource.