If you're looking for some of the top options for ESL movies, television and film, then you're certainly in the right place. We have the best movie activities, TV games, and a whole lot more to make your TEFL lessons as awesome as possible. Keep on reading for everything ESL television!
ESL Movies and Television Games and Activities
Let's get into everything you need to know about teaching English with TV shows and films.
#1: Would you Rather?
This is a simple speaking activity that works nicely with television or film. Make up a bunch of would you rather questions, or get the students to make their own. For example, Would you rather…
watch a comedy or horror movie?
see a movie at home or in the movie theatre?
watch a TV series or a movie?
More details here:
#2: Picture Prompt
This is one of my favourite warmer activities that helps students activate their prior knowledge and become interested in a topic.
Show a picture of the movie or TV clip that you plan to show. Or, a frame from the clip itself. Depending on the level, students can do any of the following:
say what they see in the picture
make a prediction about what will happen next
talk about if they're familiar with that movie or TV show already
etc.
Want to give it a try? Have a look here:
#3: Speaking Fluency Activity
This is a nice TEFL speaking activity that focuses on fluency. Have students prepare to talk about their favourite movie or TV show for two minutes without stopping.
Put students into pairs and they do this with a partner. To encourage active listening, I require that students ask a follow-up question or two based on what they heard.
Then, switch partners and repeat, except that students have to include all the same information in 90 seconds. Do the same for 60 seconds. Students have to speak more quickly.
It's possible to adjust the times for higher, or lower-level students. Have a look here:
120-90-60 ESL Speaking Activity.
#4: Conversation Starters about Films and TV Shows
Maybe you've had this experience before? You tell the students to talk about movies or TV shows are met with mostly silence, especially with quieter classes. The problem is not the students, it's that they don't have enough to work with!
A better way is to give some conversation starters related to whatever the topic of the day is. Also, encourage free communication with each other and things like follow-up questions. But, it's good for students to have something to refer back to if necessary. Find out more:
#5: Running Dictation
This is a nice activity for reviewing TV or movie vocabulary. For example, genres (action, comedy, etc.) or words like actor/actress.
Find, or write a conversation between two people talking about their favourite movies and movie stars. Then, students have to work together to dictate the conversation. After that, they can put the conversation into a coherent order. Check it out:
#6: Just One Question
This is a nice conversation activity that works well with TV and film. In pairs, students have to come up with a single question they want to ask their classmates about their TV or movie viewing habits. For example:
What was the last movie you watched?
How often do you go to the movie theatre?
What's your favourite movie?
Students have to ask at least 10 of their classmates, compile the results and then report them to the class. Learn more about it:
ESL Just One Question Activity.
#7: Dictogloss
#8: Who Am I?
This is a classic party game that you can use for movie stars as well. Write down a bunch of famous actors or actresses that students would know. Then, tape them onto everyone's backs and they have to go around the class, asking people yes/no questions to try to find out who it is.
Want to give it a try? More details here:
#9: Guessing Game for ESL Television
This is a simple warmer activity that can be used to generate some interest at the beginning of class. Find around 15-20 pictures or famous people, or frames from movies or TV shows that people would recognize. Then, students have to take turns describing one of them to their partners. Learn more:
#10: Dialogue Substitution
#11: Story Timeline
This is an ESL activity that works well for reading as well as when watching something. A movie, short video clip or TV episode.
Students have to work together in pairs or small groups to put the events into the correct order. It's a nice way to get more value out of watching something in class! Check it out:
#12: Movie and TV ESL Conversation Topics
If you're looking for some ready-made lessons to save you a ton of time, have a look at this book: 67 ESL ESL Conversation Topics. There are units about movies and TV, along with a ton of other interesting things!
#13: Just a Minute
This is a challenging speaking activity that makes a nice warm-up activity. Write down some questions related to TV or movies on the whiteboard. For example:
What's your favourite TV show? Why?
Where do you like to watch TV or movies?
Do you prefer watching TV alone or with a friend or family member?
Then, put students into groups of 4. Throw a paper ball at the board and the first person has to talk for one minute without stopping about whichever question the ball hits. Each other person in the group has to ask a follow-up question. Erase that question and repeat until all 4 students are done. Find out more:
#14: TV/Movies Speaking Lesson Plan
It's possible to plan a speaking lesson about almost any topic, including this one. Have a look here for all the details and steps to follow:
#15: Information Gap Activities for TV and Movies
This is a classic activity for this unit! In an information gap, each student gets a part of the complete set of information. They have to talk to their partner to get the rest of it. You might consider doing the following:
TV schedules
Likes/dislikes for TV shows, etc.
Find out more:
ESL Information Gap Activities.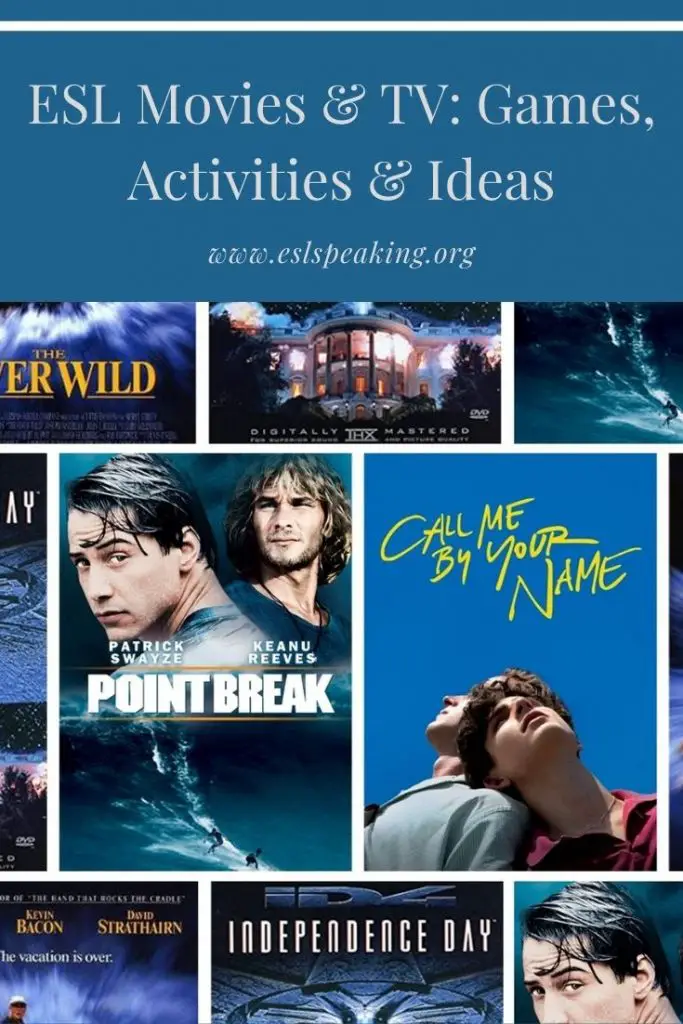 ESL TV and Movies Lesson Plans
There are a number of ESL movie lesson plans to consider checking out. Here are some of our favourites:
Resources for Teaching With Movies and TV
There are a number of resources for teaching English with TV shows and movies. Here are some of the best options:
Did you like these Ideas for ESL Movie Lessons?
Yes? Then you're going to love this book you can find on Amazon: 101 ESL Activities for Teenagers and Adults. The key to better English classes for all ages is a wide variety of interesting and engaging ESL games and activities and this book will help you get there in style.
You can find the book in digital, print and audio formats. Pick up a copy to keep on the bookshelf in your office to use as a quick reference guide. Or, take the digital version with you to your favourite coffee shop for some lesson planning on the go. Finally, consider picking up the audio version for some inspiration on your way to work.
Whatever version you choose, get ready for some ESL teaching awesome in your life!
Have your Say about ESL Movie and Television Lessons
Did you like these ideas for ESL movies and ESL television lessons? Leave a comment below and let us know what you think. We'd love to hear from you.
Also, be sure to give this article a share on Facebook, Pinterest, or Twitter. I'll help other busy English teachers, like yourself find this useful resource.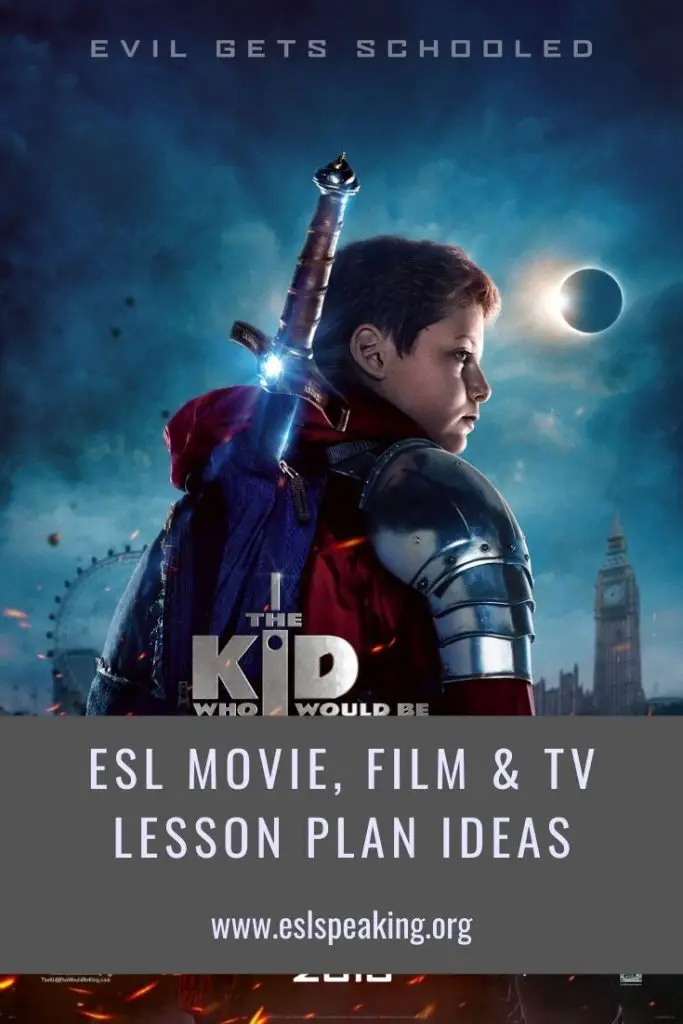 Last update on 2022-10-15 / Affiliate links / Images from Amazon Product Advertising API