Are you looking for the best subject verb agreement activities and games, along with worksheets, lesson plans, online games and more for ESL? Then you're certainly in the right place! Keep on reading.
Subject Verb Agreement Activities for ESL
Let's get into the best ESL games and activities! But first, a quick primer on what exactly is subject/verb agreement:
#1: Dialogue Substitution Subject Verb Agreement Activity
Grammar is often introduced in ESL textbooks through a dialogue of some kind. But, have you noticed that students often read them mindlessly and don't even really attention to what they're reading? Of course, it's not their fault! It's just that we haven't given them a reason to pay attention.
If you want to change this, consider omitting some of the key words. In this case, taking out the verbs works well. Then, I make a list of only the base forms of the verbs. Students have to choose the correct verb based on the context and then conjugate it correctly based on the subject.
See how much more challenging and useful this can be? It's a nice option for a subject verb agreement group activity. Try it out with your students.
Find out more details here in this helpful video: Dialogue Substitution for ESL.
#2: The Hot Potato Game
If you want to have some fun with your students, then I strongly recommend playing the Hot Potato Game. The way it works is that students pass around a potato (or other classroom objects like a marker) and when the timer goes off or the music stops, the person holding it has to do something.
In this case, you might show the student a flashcard and they'd have to make a grammatically correct sentence. For example:
HE IS wearing a jacket.
THEY ARE playing soccer.
Etc.
Of course, there are plenty of other variations that depend on the level of your students. Find out more information about playing this fun ESL game here:
#3: Role-Plays
If you're looking for an activity that's ideal for absolute beginners, then consider role-plays. The way it works is that students are given the beginning of a conversation and then they have to finish it. The teacher can assist with this of course.
After that, I have students memorize it and then present it in front of the class. It's an ideal way to hear numerous examples of correct subject/verb agreement in use, but be sure to have a quick look at dialogues to prevent errors before the presentation phase.
Check out the details here:
#4: Flashcard Games and Activities
When I teach kids, I never go to class without flashcards! They are just such a valuable teaching tool and there are a ton of games and activities you can do with them.
And they most definitely are useful for teaching students about subjects and verbs. For some of the best ideas, be sure to check this out:
#5: Subject Verb Agreement Board Game
In my real life, I love to play board games. So it's to be expected that I get my students to play them too. But, I tailor the games to the specific grammar point that I'm teaching. In this case, I use questions related to the subject and verb agreement. Students have to answer them correctly in order to advance in the game.
Do you want to try them out with your students and find out how to make them? Here are all the details you need to know:
#6: More Ideas for Teaching English
#7: How to Teach Grammar, Including Subject/Verb Agreement
If you want to teach any kind of English grammar, I have some good news for you. There is a basic lesson plan template that you can follow in order to make your classes not only valuable but relevant and engaging as well. Plus, using this template will save you a ton of time as well.
Of course, it's possible to plan a lesson for subject verb agreement using it too. More details here:
ESL Grammar Lesson Planning Template.
#8: Plan Your Own Speaking Lesson for Subject and Verb Agreement
Check out this quick and dirty guide to planning your own ESL speaking or conversation lesson. It's honestly easier than you might think and the best news is that you can tailor it exactly to your students. Have a look here:
#9: Disappearing Text
A quick way to review this important English grammar concept is to use this activity. Write a full sentence on the board and have students read it out loud. Then, erase 1-2 words at a time and students repeat the entire thing. Eventually, there will be no words left but students will say the entire sentence.
Sound like what you need to try out in your classes? Get more information about it here:
Disappearing Sentence Activity for ESL.
#10: Sentence Building Activities
A huge part of sentence structure and making complete sentences in English is subject-verb agreement. So, if you want to focus on the bigger picture, you'll definitely want to check out some of these recommendations for games and activities:
English Sentence Building Games and Activities.
#11: Subject Verb Agreement Songs
Songs are an excellent way for young learners to learn English! You can get creative and make your own or find them in many ESL textbooks for kids. Or, YouTube is another great resource.
#12: Picture Prompt
If you want to introduce this grammatical concept to your students in an interesting, find a picture with lots going on in it. Then, elicit some answers from your students about that. They might say, "Playing soccer." Assist them to make a full sentence by saying, "He…..IS (students) playing soccer."
See how that works? It's a natural way for students to learn about subject/verb agreement. Find out more about it here:
#13: The Memory Circle Subject Verb Agreement Classroom Game
A fun way to practice this concept with beginners is the memory circle. The first person says a statement such as, "I like soccer." The next person repeats the first sentence and then adds their own." "He likes soccer and I don't like tennis." So on it goes until there is one person left standing who can remember all the sentences.
Check it out here:
#14: Subject Verb Agreement Listening Lesson
One way that you can introduce and teach this important grammar point is through a listening lesson. In this case, students may be required to listen to something and pick out examples of subject/verb agreement. Or, you may wish to find an exercise by a non-native speaker that have some errors in them and get students to pick them out.
Whatever the case, there are a ton of ideas here:
#15: Subject Verb Agreement Videos
Maybe your students are kind of like mine? By that, I mean that maybe they're tired of hearing me talk by the end of the semester! If this might be the case for you, consider having them listen to another teacher explain this grammatical concept. There are a ton of resources on YouTube.
#16: Vocabulary Auction
Although it does take a bit of time to prepare for this activity, it's definitely worth it if you can recycle it for a number of classes. Students love it and there is some serious learning going on as well. The way it works is that students have to bid on words to make complete sentences, including subjects, verbs, objects and other words. Then, they can negotiate with other groups to trade and the winner is the group with the most complete sentences.
Sounds like something you might want to try out? Find out more here:
#17: Got to Hand it You Review Game
Learning a language is ALL about review and students need countless repetitions of something in order to really get the hang of it. Consider trying out this review activity that is similar to a quiz game but just far more student-centred. Find out all the details here:
Got to Hand it to You Review Game.
#18: Running Dictation
In my opinion, running dictation is one of the ultimate ESL activities because it can be adapted for so many topics and also covers a wide range of skills. Plus, it gets students up and out of their seats moving around the class plus creates some excitement.
It's also easy to include a ton of examples of subjects and verbs in it. Check it out here: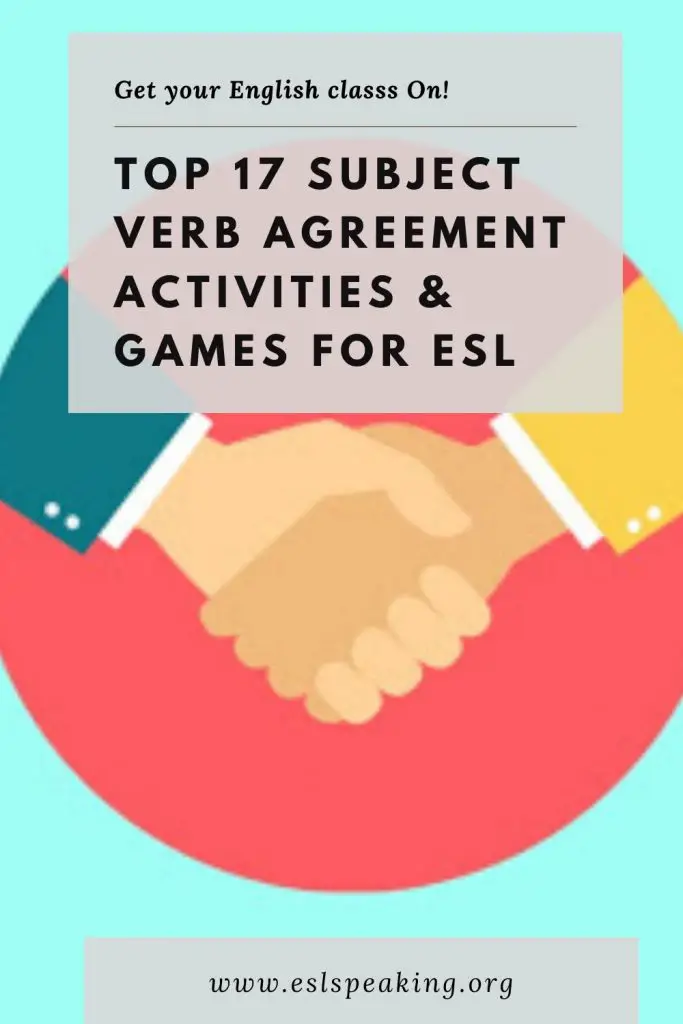 #19: Sentence Race Game
A fun subject verb agreement game ESL to play with your student is this board race one. Divide the class up into teams. The number will depend on how much board space you have. The first student from each team grabs a marker.
Then the teacher says a subject and the base form of a verb (he eat). The student has to write it correctly (He eats). Then, the next student has to finish the sentence. The first team to do this correctly gets a point. Continue until everyone has had a chance to play.
#20: Reading Passage
An easy way to help reinforce or introduce subject/verb agreement is to give students a short reading passage filled with various examples of this. Then, students have to quickly scan the text and highlight the subjects and verbs. After that, they can compare the examples they found with a partner and then finally with the entire class.
Do you want to find out more details about how to plan an ESL reading lesson? Have a look at this video for the simple steps to follow.
#21: Use the Card
A simple subject and verb agreement game is to give students a variety of verb flashcards. The number will depend on how many students are in your class.
Then, say a subject and the student has to make a sentence using that subject, as well as their verb and then finish off the sentence in some way. Simple but effective!
#22: Simple Present Activities
The simple present is one area where subject and verb agreement is especially important. Have a look at some of my favourite ideas for teaching this:
#23: Relay Race Game
Try out one of my favourite subject verb agreement classroom games. Learn more about it here:
#24: Drilling Game and Activity Ideas
A nice way to reinforce subject/verb agreement is to use some drills. This way, students will never forget! Here are some of the best ideas.
Subject Verb Agreement Online Games 
Do your students need some more practice with this? Then you'll definitely want to direct them to the following games online:
Subject Verb Agreement Lesson Plans for ESL
Why reinvent the wheel if you can just print something off and use it in class, right? Save yourself a ton of time with these ESL lesson plans for this topic:
Teaching Subject Verb Agreement Worksheets
There are a ton of excellent worksheets for ESL students for subject-verb agreement. Here are some of our favourites:
Subject-Verb Agreement FAQs
There are a number of common questions that people have about teaching subject/verb agreement. Here are the answers to some of the most popular ones.
What is subject verb agreement and their examples?
Subjects and verbs have to agree in number. If it's a singular subject, the verb must be singular as well. For example, "She writes…" If the subject of the sentence is plural, then the verb must be as well. For example, "They write…"
What is a subject-verb agreement error?
A subject-verb agreement error is when the subject and the verb don't agree in number. For example, a singular subject (he) with a plural verb (eat). The correct form is, "He eats."
How to teach subject and verb agreement?
Teaching subject and verb agreement is a relatively simple concept that even beginning English learners can grasp. Use some example sentences in context and then offer students lots of opportunities to practice with both writing and speaking. Offer gentle error correction.
Did you like these Subject Verb ESL Activities and Games?
Yes? Thought so. Then you're going to love this book over on Amazon: 39 No-Prep/Low-Prep ESL Grammar Activities for Teenagers and Adults. The key to better English classes is a variety of interesting, student-centred and engaging ESL games and activities and this book will help you do that in style.
Keep a copy of it on the bookshelf in your office to use as a handy reference guide for making lesson plans. Or, take a copy with you on your phone, tablet, or laptop for some serious lesson planning on the go. Yes, it really is that easy to have better English classes.
Check out the book for yourself on Amazon, but only if you want a serious dose of ESL teaching awesome in your life:

Have your Say about these Subject Verb Agreement Activities
What's your top pick for subject and verb ESL games? Is it one of the options from list, or do you have another one that you'd like to recommend? Leave a comment below and let us know what you think. We'd love to hear from you.
Also be sure to give this article a share on Facebook, Pinterest, or Twitter. It'll help other busy teachers, like yourself find this useful lesson planning resource.
Last update on 2022-10-15 / Affiliate links / Images from Amazon Product Advertising API