If you're looking for some ESL or EFL review activities and games, you've come to the right place. Keep on reading for my favourite ESL review games to check out! And, don't forget to provide your students with lots of opportunities for review in class.
Keep on reading for more details about each of these ESL review games and activities. These English review activities are fun, engaging and student-centred.
Best ESL Review Activities
If you're looking to make sure your students understood what you taught them in a previous lesson, consider using one of these ESL review activities and games. They're fun, engaging and interesting, which will equal happy students and happy teachers!
Most of them are appropriate for just about any age or level of students, just adjust them accordingly. Click on the titles of each ESL review game to be taken to the full description of the activity.
But, please remember that the best language learning often happens outside of school, so please remind your students of this as well.
#1: Odd One Out ESL Review Game

This ESL warm-up activity is also one of my favourite ESL review activities. It's fast, easy and great for making sure that students not only understand new vocabulary words, but the meaning behind them as well. It lends itself particularly well to something like science or sports.
I often use this one to start off my classes with as a quick warm-up. But to make it a review activity, I just use vocabulary words from previous classes.
You can find out more here: Odd One Out.
#2: Dictogloss
Dictogloss is another one of my favourite ESL review activities. It's heavy on the listening and then students can either respond with writing or speaking, depending on your preference. You can use it to reinforce any grammar or vocabulary that you've taught the students in previous classes.
Younger learners may find it too difficult, but it's ideal as a review activity for high school students, university students or adults.
Learn how to do it here: Dictogloss.
#3: Flip-Chart
This is another one of my favourite ESL review games that works best for smaller classes of 12 or fewer students. In bigger classes, it'll get too chaotic. You may be tempted to make 3-4 teams, but this gets kind of boring because there's too much lag time between turns.
Basically, the students have to describe a word (written on the board or page above their heads) to a captain on their teams, who has to say it. It's a nice way to review new vocabulary terms.
Check it out here: Vocabulary Review Activity.
Even More ESL Games and Activities
#4: Concentration Review Game
This is a fun English review game that kids love, although you can use it for beginner teenagers or adults too. It's perfect for reviewing new vocabulary words and definitions. Even high school students get into it!
Perhaps the thing that I like best out this ESL review game is that it's a test of the memory as well. So, students who are a little bit weaker at English, but may have a better memory actually have a chance at winning.
It's fun, challenging and helps students to remember new words. Try it out with kids as well as adults and I'm confident that you'll be happy with the results.
Find out more about this ESL review game: Concentration Memory Game.
#5 Grammar Review Game: Disappearing Text
Try out this ESL review activity at the end of class to review grammar concepts or vocabulary. It helps these things become a bit more automatic with building complete sentences.
It's also an excellent test to make sure students have really learned what you were trying to teach them in that class. Correct word order in a sentence? Yes, that's what this activity is ALL about, so it's particularly good for absolute beginners.
Check it out here: Disappearing Text Review Activity.
#6 Final Exam Review Game: Running Dictation
This 4-skills, student-centred ESL activity is one of my favourites. You can use it to review just about anything and it's perfect to use before a midterm of final exam to review key vocabulary and grammar concepts.
Try it out in some of your classes today and I'm sure your students will love it. It's perfect for those "dead" classes who are apathetic to just about everything! It has a serious element of competition to it that students seem to love.
The hush that comes over the class is one serious sign of how engaging this game is! It's certainly one of the best class review activities that I know of.
Learn More about one of the best review activities for adults (although you can use it with kids too) here: How to Play Running Dictation.
#7 English Review Games: Board Games
I love to play board games in my real life and so I'm always sure to use them frequently in my classes. They're one of the best ESL review games I can think of, especially for middle school or high school students!
It's really, really easy to make your own ESL board games and it'll only take a few minutes once you get the hang of it. Of course, you can sometimes find board games in the teacher's resource books, but you can write you own easily if you can't.
Students really love them and they work in a class of any size. You just have to divide the students up into groups of 3-5. Don't forget to bring a little prize for the winner in each group–it makes these ESL board games a bit more fun!
Find out more details about one of the best fun test review games: Board Games for Language Learners.
Learn More about ESL Board Games:
#8 Review Activities for Adults: Surveys for ESL Students
Surveys are one of my favourite "end of unit" ESL review activities. They get the students up and out of their seats and talking to their classmates. They also encourage active listening and follow-up questions, which students are often quite weak at.
Click on the link above to see six of them that I use in my own classes in South Korean universities. I generally find that I use them in each course a few time a year. ESL surveys really are that good!
Helpful tips for English surveys:
Be sure to emphasize that this is a 1-1 speaking activity, or you'll have groups of students doing it together.
Encourage students to complete this activity using 100% English! It really is possible and also very beneficial.
It can be useful to give some feedback at the end of this activity on how the class did.
Learn more here: ESL Board Games.
#9: Rock-Scissor-Paper
If you have very low-level students who are struggling to put together basic questions and answers, this is the ESL review activity for you! The best part about it is that it gets the students up out of their seats and moving around the classroom.
The way it works is that there are little strips of paper with a question and then the corresponding answer (separate pieces). Students will get a few random pieces and then have to circulate around the class looking for their matches. It's one of the best review games before a midterm or final exam.
Learn how to play this game here: Rocks-Scissor-Paper.
#10 Review Activity: Simple Role-Plays
If you ask students want they want to work on in your classes, they'll often say English conversation. Even beginners will say this! However, something like free talking can be impossible for lower-level students. Role-plays are a nice bridge for them.
Role-plays are often quite a nice way to round out a unit. They are one of my favourite ESL review activities, especially for lower-level students. They encourage students to get a bit creative with the language that they've learned. Personalizing it can often make it far more memorable.
If you ask students what they want to work on in class, they'll often say English conversation. However, this can be difficult with lower-level students. Role-plays help bridge the gap and are a nice way for students to learn the basics of conversation.
Learn more: Role Plays for English Learners.
Find out more about how I use ESL role-plays in my classes:
#11: Task Based Activities
Task based activities are when students have to work together to accomplish something. In the case of review, it could be designing an activity or game that helps their classmates review a certain grammar or vocabulary point. Or, they could design a worksheet to do this as well.
Do you want to know more about this style of teaching? Check out the following: Task Based Language Teaching.
#12: Hot Potato Review Activity
This is one of the most versatile TEFL activities out there and can be used for any grammar or vocabulary point. It makes an excellent review activity. The way it works is that students pass around a "potato" and when the timer goes off, the person holding it has to do something.
In this case, it might be to answer a review question. Or, they could have to make a question to ask another student. Find out more about this fun review activity here: Hot Potato TEFL Game.
#13: ESL Charades Class Review
Charades is  a fun way to review vocabulary. You've probably played this at a party before. The way it works is that students have to act out a phrase to their teammates who guess what it is. Do you want to try it out in your English class? Learn more about one of the best English review games here:
#14: Flashcard Sentences 
Flashcards are definitely one of those things that I think are under utilized by most English teachers. They are super versatile and can be used for a wide range of activities, including review. The sky is the limit so be sure to check this out for some specific examples of how you can use them in your class:
#15: Chain Spelling Review Game
A quick but fun way to review new vocabulary words is to play the chain spelling game. It's basically a "last person standing" kind of activity where students have to spell out words, one letter by one letter in a circle. When someone misses a letter, they are "out."
Do you want to find out more about how to play? You can see all the details right here: Chain Spelling Game.
#16: Jigsaw Activities
#17: What are you Cooking?
One excellent way to review the "food" unit that's super common in many ESL textbooks is to do this fun activity. The way it works is that students have to design a 3-course menu based on ingredients given to them by another group.
Want to try out this ESL food review activity? You can see all the details here: What are you Cooking ESL Food Activity.
#18: Dialogue Substitution
A nice way to review key grammar points or vocabulary words is to use this dialogue substitution activity. Often ESL textbooks will have conversations in them but if you ask students to read them with a partner, they'll often do this mindlessly. This isn't their fault—it's just that they don't really have a reason to read!
Instead, consider using this activity which takes out key words and then students have a word bank from which to fill them in. The words you take out depends on what you've been teaching your students. Want to know more? You can get all the details right here:
ESL Dialogue Substitution Activity.
#19: ESL Picture Activity for Reviewing Vocabulary
A nice review activity can be to show students an interesting picture related to the topic of the day. Then, students have to make some sentences related to what they see, either by speaking or writing. It's simple, easy and effective for getting students to use the key new vocabulary.
#20: Flashcard TEFL Review Game
There's nothing like using flashcards to review key vocabulary that students have learned in your classes. Here are some fun review activities to try out with your English learners:
#21: Typhoon Review Game
Try out this TEFL game if you want to have some serious fun before a midterm or final exam! It's ideal for reviewing large amounts of materials in an engaging and interactive way. Every time I use it in class, students talk about it for weeks afterwards and want to play it again! Find out more here:
#22: Preposition of Place Review Quiz
Check out this simple game to review prepositions with your students:
#23: Basketball ESL Game
This is an easy review game that's ideal for covering simple grammar points. It's best for children but I've also used it with teenagers with great success. It's so fun that students always ask to play it again! Check it out here:
Basketball Challenge ESL Game.
#24: Speaking Fluency Activity
Fun Review Games and Activities: FAQs
There are a number of common questions that people have about using ESL review games and activities in class. Here are the answer to some of the most common ones.
What is a Review Lesson?
A review lesson is a lesson that covers material from previous classes. It's generally done before an exam or test, however it doesn't have to be related to this and can be done for its' own sake. Reviewing topics frequently helps students consolidate new grammar and vocabulary.
Is ESL Review Important?
Review is vital to ESL learners, or any language learner for that matter. It's the best way for students to get enough practice with new grammar points and vocabulary so that they become familiar with it and are able to use it effectively.
How do you Review Vocabulary?
Here are some of the best ways for ESL/EFL students to review vocabulary:
Odd One Out
Dictogloss
Flip-chart review
Concentration
Disappearing text
Running dictation
Board games
Surveys
Rocks-scissor-paper
Role-plays
Task based activities
ESL Hot Potato
Flashcard sentences
Charades
How can Students Take Responsibility for Review?
Although you as the teacher can help students with review and create opportunities for this in class, it's ultimately up to them whether or not they learn the new vocabulary and grammar that you're teaching them. The best learning often happens outside the classroom and not necessarily just cramming for a test.
Don't forget to remind students of this fact on a regular basic. Give them tips and ideas for expanding their skills and education beyond just sitting in your class. Think of it as a team sport and you're the coach.
One of the ideas that I find works particularly well is keeping a log or journal of new things learned and then reviewing it periodically. If your students aren't great at doing this on their own, add some homework in there.
How Can I Help Students Remember New Words and English Grammar?
All the time, students ask me for tips on now they can remember new English vocabulary words, or grammatical points they learned in class. Here are a few of the tips that I give them:
Review is very, very important. You can review a word after 24 hours, after one week, and then a month later. If you can still remember something a month later, it's probably with you.
Flashcards are ideal. Make sure you go from the English to native language, but also the much harder native language to English. Mix them up every time you study because it forces your brain to work harder. Also be sure to take out the ones that you know very well and work more on the more difficult ones.
Use a vocabulary notebook.
Read and listen a lot. The more times you hear new words "in the world," the better the chance you have at remembering it.
Learn with a friend and test each other.
Learn new words every day, but not too many. 5-8 is an ideal number.
It's better to review for 10 minutes a day than 10 hours once a month.
Of course, review is by far the most important thing so keep doing it!
My Theory Behind Lots of Review
I incorporate a ton of review into my English classes. At the start of the class to review material from previous lessons. At the end of a class to review what we studied that day. Even in the middle of the class to review some difficult grammar or vocabulary that I'm not sure my students have a full grasp on. Then, I dedicate an entire class to it before the midterm and final exam.
Too much? I don't really think so. My theory is that it's far better for students to know a few things really, really well than to do lots of things not at all. It's the things they know well that they're actually going to use in real life when they start writing and speaking in English. And they'll have a solid takeaway from your course.
If you want to learn more about the theory behind teaching ESL, consider some professional development opportunities including conferences. It can help bring some order to the sometimes confusing world of language teaching.
Want the Ultimate ESL Activity Book?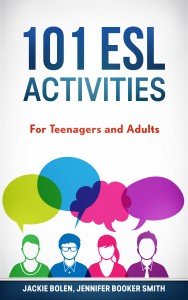 If the answer to that question is yes, you'll need to check out: 101 ESL Activities for Teenagers and Adults. There are 101 awesome ESL activities that are guaranteed to get your students talking and having fun while learning English.
Find What You're Looking for a Minute
Do you want to know the best part? All the games and activities are organized by category for easy use (speaking + listening, reading, writing, 4-skills, warm-ups + icebreakers). Yes, there are even lots of review activities and games too!
It's lesson planning made easy!
Available in a Variety of Formats
You can easily get the book on Amazon today. There are two formats: digital + print. The digital one can be read on any device by downloading the free Kindle reading app.
Keep a copy on your bookshelf as a quick reference when lesson planning. Or, have a copy on your phone for planning lessons on the go in your favourite coffee shop for example.
Where Can I Get It?
Check out the book for yourself today by clicking the link below. And, get ready for some ESL awesome in your life, okay?

What are some tips for Review Classes or Activities?
If you want to do some review with your students, here are some tips and tricks for making it as helpful as possible.
#1: Have a Plan
Instead of just giving students free time to review before a test, have a plan. I like a mix of worksheets, textbook review pages, videos, task-based learning, games and activities. Of course, it depends on what the class is: writing, speaking, etc.
#2: Don't Hit your Students with Everything at Once
If you dump every single grammar and vocabulary item you studied that entire year onto a single sheet of paper, it's going to be overwhelming. Instead, take it in sections at a time, and you may consider not reviewing the very fine details. Most students are happier with the big picture stuff.
#3: Have a Few Minutes of Question Time
Students often have questions about the material they've learned, or about the upcoming test. Leave a few minutes at the end of class to field these.
#4: Have Students Review Things 
If you have upper-level students, you may want to get them to teach a small mini-lesson (5-10 minutes is ideal) for a certain concept. It's fun for the students, and often quite memorable.
#5: Avoid Introducing New Things
Review is all about the old, so avoid the temptation to introduce new concepts. This will often cause some major frustration for your students!
#6: Keep it Simple
Remember that some of the things you're reviewing may have been covered in class months ago. Keep it simple!
I generally aim to give students enough information in a review session so that the average student could be a "B" on the test if they knew everything well. The "A" students will have to study more on their own.
What I'm saying is don't give ALL the information that the top students will know because you'll overwhelm the majority of your class.
#7: Make it Student-Centred
Your students should be working hard, not you. After all, it's your students who have to learn the language, not you!
With this in mind, your activities and games should be focused on them as much as possible. Avoid the chalkboard warrior things as much as possible in your review sessions.
#8: Consider an Entire Review Class
The class before the midterm or final exam, I dedicate exclusively to review. I want my students to do well on my tests, and this is one way that I try to help out the weaker students a little bit.
I generally come up with 3 activities for a 1.5-2 hour class. Perhaps a board game, concentration and then perhaps a survey. Of course, all the content is from the course and will be on the final exam.
Students are used to studying everything individually. For example, the simple past, then past continuous the following week, and problem/advice the week after. They're not used to seeing everything together, so I try to give them this experience during my review.
Finally, I'll give lots of hints to students who are paying attention about what will be on the test. Plus, I allow for question time and I'm generally quite free with advice about the exam's content.
More Ideas for How to Finish a TEFL Class
Have your Say about these ESL Reviews Games
Do you have one or two go-to review games in your English classes? Leave a comment below and let us know. We'd love to hear from you.
And don't forget to share this on Facebook, Twitter, or Pinterest. It'll help other busy teachers, like yourself find this useful resource filled with grammar review games.
Also feel free to contact us if you have any questions about teaching English.
Last update on 2023-09-30 / Affiliate links / Images from Amazon Product Advertising API